Commentary
Rookie Watch: Who are the early favorites for ROY?
Originally Published:
June 27, 2008
By
David Thorpe
| ESPN.com
Draft's over. Time to look ahead to the 2008-09 season. Which rookies will have the biggest impact? Who are the Rookie of the Year contenders?
Here's my list of the top 20 rookies:

1. Michael Beasley, PF, Heat
He's a prodigious talent who will be extremely productive in Miami or wherever he ends up. The Heat pride themselves on being a top-notch organization, so if they keep him they will focus heavily on wringing all of Beasley's talents out of him in short order.

2. Greg Oden, C, Trail Blazers
This is based on his playing on two healthy legs, naturally. Out all of last season after microfracture surgery, last year's No. 1 pick becomes the other man-child of this rookie class. Oden is a true force on both ends and will compete with passion and purpose every night.

3. Rudy Fernandez, SG, Trail Blazers
I love players who have been productive in the best leagues in Europe (think Luis Scola and Juan Carlos Navarro). Fernandez is ready to play and has the potential to develop even further.

4. Marc Gasol, C, Grizzlies
Skilled, experienced and full of confidence. Don't discount the effect of having his brother, Pau, in his ear all summer, teaching him the nuances of the NBA.

5. Derrick Rose, PG, Bulls
Let's not forget he is still very young and the Bulls still have Kirk Hinrich, who has lots of talent. Rose is going to be great, but not overnight. Still, he projects to be an All-Rookie performer.

6. Kevin Love, PF, Timberwolves
I know his athleticism and overall physique are in question, but he's too tough, smart and skilled not to be an effective player early on. Thanks to the trade to Minnesota, he should get major minutes. He is a perfect fit (offensively) next to Big Al.

7. O.J. Mayo, SG, Grizzlies
Obviously, a talent like Mayo should rank higher, but Conley and Gay are youngsters who will get lots of minutes. Playing three young players together is a disastrous recipe most of the time, so O.J. may have to wait his turn just for a little bit.

8. Danilo Gallinari, SF, Knicks
Another highly skilled and experienced player from Europe, Gallinari is in a system that perfectly complements his skill set. I get the feeling he'll have a special bond with head coach Mike D'Antoni, a la Steve Nash.

9. Eric Gordon, SG, Clippers
Brilliant shooter/scorer who should get minutes in L.A. He's got a motor and some talent around him that will help his transition.

10. Brandon Rush, SG, Pacers
Has a beautiful outside stroke and is ready to defend -- a perfect fit in Indy. Newly acquired point guard T.J. Ford will get him shots in half-court sets and in transition.

11. Courtney Lee, SG, Magic
Very athletic with polished skills, Lee was drafted by Orlando mainly because he can really defend. He's a classic Stan Van Gundy guy.

12. Russell Westbrook, PG, SuperSonics
He's ready to defend at the next level, but he might struggle to run the Sonics' offense. His heart and character should earn him quality minutes.
13. Jerryd Bayless, PG, Trail Blazers
Should be looked at as a serious scoring option off the bench. He is highly confident and an excellent shot-maker with quickness.

14. Brook Lopez, C, Nets
Big guys who can score using their size, or craftiness, have a place in this league. Lopez can do both.

15. Roy Hibbert, C, Pacers
Highly skilled and smart. And huge, too. Should be able to get minutes on this team and be a half-court option right away.

16. Joe Alexander, SF, Bucks
The league loves athletic energy guys, and Alexander is that and more. His skill game may need work, but his strength and agility will allow him to make a difference from the get-go.

17. Jason Thompson, PF, Kings
The most surprising pick of the draft, Thompson is multitalented and going to a team desperate for help inside. He can shoot, too, which is a must for Kings GM Geoff Petrie.

18. Donte' Greene, SF, Rockets
Pure shooters like Greene can find their way into the rotation. Dropping so low in Round 1 may end up inspiring him to work harder this summer.

19. Chris Douglas-Roberts, SG, Nets
Very solid shooter and scorer who loves to compete when the lights are on. Should be highly motivated after the first-round snub.

20. Nicolas Batum, SF, Trail Blazers
I know that most stat gurus don't like him, but it's not easy to put up big numbers as a 19-year-old in the Euroleague.
David Thorpe is an NBA analyst for ESPN.com and the executive director of the Pro Training Center at the IMG Academies in Bradenton, Fla., where he oversees the player development program for NBA and college players. To e-mail him, click here.
NBA Analyst for ESPN.com
Executive director of Pro Training Center
Started coaching career in 1987
2008 NBA Draft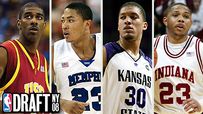 We've got the 2008 draft covered. Who are the top prospects? Check out our analysis, projections, scouting reports and more.
'08 NBA Draft Index
•
Roundup: A rundown of who went where
•
Keeping up with draft day trades
•
Mayo to Memphis, Love to Minnesota
•
Simmons, Ford: Great Draft Debate '08
•
Chad Ford's Mock Draft 7.0: Picks 1-30
|
31-60
•
Chad Ford's Mock Draft 6.1: Picks 1-30
|
31-60
•
Chad Ford's Mock Draft 6.0: Picks 1-30
|
31-60
•
Chad Ford's Mock Draft: Version 5.0
•
Chad Ford's Mock Draft: Version 4.0
•
Chad Ford's Mock Draft: Version 3.0
•
Chad Ford's Mock Draft: Version 2.0
•
Chad Ford's Mock Draft: Version 1.0
•
Draft Machine: Make your picks
•
Who's in, who's out of 2008 draft?
•
Ford's Top 100: Best draft prospects
Chad Ford
•
Draft Watch: How high or low will they go?
•
Draft Notes: Heat trading Beasley pick?
•
Draft Notes: Rose-Beasley rages in Chicago
•
NBA draft strategy: Ranking prospects by tiers
•
Draft Watch: Teams coveting UCLA's Westbrook
•
Draft Watch: Final in/out decisions made
•
Draft Watch: Rush's hot, Arthur's not
•
Draft Watch: International top 15
•
Draft Watch: Alexander's hot, Lawson's not
•
Draft Watch: Miami takes close look at Mayo
•
Draft Watch: Using the measurements
•
Draft Watch: Analyzing combine results
•
Draft Watch: Analyzing official measurements
•
Draft Notes: Who's looking to trade their pick?
•
Draft Notes: Stars come out in Orlando
•
Draft Notes: Beasley, Rose a marked contrast
•
Draft Stock Watch: Forbes taking wing on charts
•
Draft Notes: No. 1 question looms over Paxson
•
Draft Watch: Lawson bouncing back
•
Draft Notes: Rumors, promises and PGs
•
Draft Watch: Orlando hopefuls eye first round
•
Draft Watch: Could Mayo be the No. 2 pick?
•
Draft Watch: Who's No. 1 -- Rose or Beasley?
•
Draft Watch: Mayo's stock is rising again
•
Draft Watch: Judging early entry calls
•
Draft Watch: Nike Hoop Summit buzz
John Hollinger
•
Draft Rater: How will the Euros translate?
•
Draft Rater: Who are the best perimeter players?
•
Draft Rater: Who are the best big men?
•
Draft Rater: Beasley has most pro potential
•
Rating college prospects
More Analysis
•
Katz: Bayless, Gordon survived turmoil
•
Katz: Freshmen could produce record numbers
•
Katz: Draft trade rumors abound
•
Gottlieb: Mayo impresses while others falter
•
Katz: On top 12 picks
•
Katz: Rose's unique passion to win
•
Fraschilla: Who made right choice to return?

•
Katz: Heels win on withdrawal day
•
Katz: Anderson still on fence
Draft Lottery
•
Ford: Beasley-Rose debate rages in Chicago
•
Bulls win lottery; get first pick
•
Ford: Will Bulls take Beasley No. 1?
•
Vote: What should Bulls do?
•
Katz: Lottery projections

•
Fraschilla: Projecting picks 1-14

Podcasts
•
NBA Dish: Paxson on winning lottery
•
Mike & Mike: Paxson on No. 1 pick

•
NBA Dish: Joe Abunassar, NBA trainer
•
NBA Dish: Kevin Love, UCLA
SportsNation
•
NBA Draft polls
Fantasy
•
McKitish: Most freshmen have little impact
•
McKitish: Beasley and Rose as NBA rooks