Best in show: Kings-Lakers
Originally Published:
January 16, 2004
By
Tom Tolbert
| Special to ESPN.com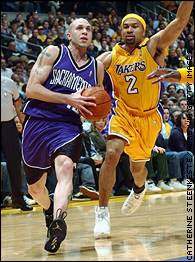 Watching Mike Bibby, left, and the Kings push the ball up court is entertaining.
When the topic is the NBA's marquee matchups, it's best to look West.
The NBA's marquee game, in my opinion, is Kings vs. Lakers, followed closely by Kings vs. Mavericks (with Lakers vs. Mavericks in third place).
Some people might say that I'm exhibiting West Coast bias -- but if you ask me, we need more West Coast bias in basketball ... and in sports in general!
Why Kings-Lakers? The abundance of story angles and subplots sets this game apart. Allow me to explain.
First, there's the compelling in-state factor. Northern California (Sacramento Kings) vs. Southern California (Los Angeles Lakers). Or, as we Californians would describe it, NoCal vs. SoCal. The Kings suffer from a Golden State inferiority complex because L.A. has set a standard the Kings have been unable to meet so far.
Second, there's the rivalry. The Kings came so close to stopping the Lakers in the playoffs during L.A.'s three-peat championship run from 2000 to 2002. In 2002, the Kings almost beat L.A. in an unbelievable, seven-game Western Conference finals. Before that, there were other classic postseason series that helped build this rivalry.
| | | |
| --- | --- | --- |
| Date | Place | Result |
| 11/18/01 | Los Angeles | 93-85 Lakers |
| 12/7/01 | Sacramento | 97-91 Kings |
| 3/24/02 | Sacramento | 97-96 Lakers |
| 4/17/02 | Los Angeles | 109-95 Lakers |
| 5/18/02 | Sacramento | 106-99 Lakers |
| 5/20/02 | Sacramento | 96-90 Kings |
| 5/24/02 | Los Angeles | 103-90 Kings |
| 5/26/02 | Los Angeles | 100-99 Lakers |
| 5/28/02 | Sacramento | 92-91 Kings |
| 5/31/02 | Los Angeles | 106-102 Lakers |
| 6/2/02 | Sacramento | 112-106 (OT) Lakers |
| 12/25/02 | Los Angeles | 105-99 Kings |
| 1/31/03 | Sacramento | 124-113 Lakers |
| 3/20/03 | Sacramento | 107-99 Kings |
| 4/10/03 | Los Angeles | 117-104 Lakers |
You could make a case that the Kings have been the second-best team in the NBA over the past five years -- but also include the
San Antonio Spurs
in the discussion. The Spurs sandwiched the Lakers' three-peat with NBA titles in 1999 and 2003.
Third, there's the star power. The Lakers boast four future Hall of Famers in Shaquille O'Neal, Kobe Bryant, Karl Malone and Gary Payton (though all but Payton are battling injuries). The Kings counter with All-Stars Peja Stojakovic and Chris Webber (when he returns from offseason knee surgery) as well as potential All-Star Mike Bibby.
Then there's the fun factor. Kings-Lakers is, simply, a fun game to watch. Each time these teams play, I make a point to tune in. In fact, the Kings are more fun to watch than any team since Magic Johnson's Showtime Lakers (including the current Lakers).
The Kings play the game the way I like to see it played: They pass the ball, run the court and share the spotlight. They know how to cut hard and get backdoor layups. They can hit the 15-footer as well as the 3-pointer. They can dribble-drive and then make passes to an open teammate for a 10-footer. With all the cutting and the movement, the Kings are a joy to watch.
After Sacramento, the most fun NBA teams to watch are the Dallas Mavericks and the current Lakers. The Mavs also get up and down the court -- a style of play that fans enjoy watching -- and they feature versatile, skilled players such as Michael Finley, Dirk Nowitzki, Steve Nash, Antoine Walker and Antawn Jamison.
What sets the Kings apart from the Mavs and Lakers is their work in the half-court offense. The Kings' passing and cutting is superior to every other NBA team.
As far as the marquee Eastern Conference matchup ... well, if I had to choose one, it would be Indiana Pacers vs. Detroit Pistons -- but only because they're the East's two best teams right now. If the Pacers-Pistons were on TV and the Kings-Lakers were on ESPN Classic, I'd probably watch the Kings-Lakers replay.
Tom Tolbert, who played in the NBA for seven seasons, is an NBA analyst for ESPN.
EDITORS' PICKS
Another surgery will keep KD out the rest of the season.
J.A. Adande »

Fitting in is Jeremy Lin's biggest challenge now.
Torre »

Who are the best -- and worst -- owners in the league?
Rankings »

MOST SENT STORIES ON ESPN.COM