Don't dig Detroit? That's OK, we like it like that
Updated:
November 20, 2005, 3:20 AM ET
By
Todd Boyd
| Special to ESPN.com
Editor's note: We asked USC professor Todd Boyd, a lifelong Pistons fan from Detroit, to comment on the brawl of Nov. 19, 2004, and its impact on the image of his home city from his personal perspective.
Would it be un-PC of me to say that on the one-year anniversary of the now-infamous event known as "basketbrawl," I (for one) was not shocked, mortified, embarrassed or overly concerned about the fight that broke out at the Palace of Auburn Hills that night?
As you might suspect already, this is not some misty-eyed lament about the decline of the game or the corrosive effects of hip-hop culture on the sport. 
Let me say off the top, I don't think the game is in decline, and I most certainly don't think that hip-hop had anything to do with the fisticuffs of that evening, despite what the haters may say.  Listening to all of the spoken nonsense about how hip-hop's thug image has run amok in the NBA in the aftermath of all that drama at The Palace, you would have thought that TI and Young Jeezy were actually in the stands and on the court that night "throwin' them 'bows." 
| | |
| --- | --- |
| | People in "The D" (the nation's original murder capital, where the sculpture of an ominous clenched fist is a downtown landmark) have been maligned for so long now that they don't even care anymore. As a matter of fact, they take all of this on as a badge of honor. |
Hip-hop, it seems, has become the scapegoat for everything wrong in society now. For example, noted New York Times columnist David Brooks recently blamed hip-hop for the riots in France. What next?  Is someone is going to accuse hip-hop of misleading the American people about Saddam's WMD?
Don't get it twisted, though -- hip-hop was not the culprit. 
Take Ron Artest out of that scenario and there is no brawl, plain and simple.  And, despite what he or anyone else says, Artest is not hip-hop, and he most certainly ain't hip.  If he were, he would have handled the squabble with Ben Wallace right there on the floor, instead of laying down on the scorer's table and then running up in the stands after some drunken fans. 
But I am not here to denigrate Artest, either.  He's already done that himself, so he doesn't need the assist. 
I am here at the one-year anniversary to say that once again my city, Detroit, got another undeserved dis from all those who said that if something like this was going to happen, it would only happen in Detroit. 
This is the thinking behind that wack video montage during the player introductions at that recent Pistons-Kings game in Sacramento.  Burning cars and abandoned buildings had come to define the city of my birth long before any of these recent events, though. 
This image of Detroit as a vast urban wasteland goes back to 1967, when disgruntled black residents on 12th and Claremont decided to take fate in their own hands and resist the police brutality that had become all too common in their lives.  This act of defiance following the raid of an after-hours joint, known as a "blind pig" in Detroit, ignited one of the worst riots in American history. 
Massive "white flight" to the suburbs followed, and a few years later, when oil prices started going up and Japanese imports started rolling in, the declining fortunes of the U.S. auto industry began to take its toll on The Motor City. 
I remember back in the day as a kid going to Pistons games at Cobo Hall in downtown Detroit, with my Dad and my "Detroit Mama," Mozelle, the person who introduced me to the game of basketball and who remains my closest colleague in all things basketball to this day. 
We would go to see the Pistons of Dave Bing and Bob Lanier, who were coached by Ray Scott, one of the game's first black head coaches.  The scene in the crowd was always colorful, with everyone from doctors to lawyers to pimps seated in the stands.  I have a picture of myself from this time, wearing checkerboard plaid pants, rockin' an afro, while standing next to Chris Ford of the Pistons. 
This was the era of Mayor Coleman Young, the man whose 20-year reign of power still defines the city to this day.  The mayor typified the hard-core spirit of Detroit when, at his 1974 inauguration, he issued this warning to all potential wrongdoers: "It's time to leave Detroit; hit Eight Mile Road! And I don't give a damn if they are black or white, or if they wear Superfly suits or blue uniforms with silver badges."  As they say in hip-hop, that's "real spit" there. 
What I'm getting at here is the fact that like hip-hop, people in "The D" -- the nation's original murder capital, where the sculpture of an ominous clenched fist is a downtown landmark -- have been maligned for so long now that they don't even care anymore.  As a matter of fact, they take all of this on as a badge of honor.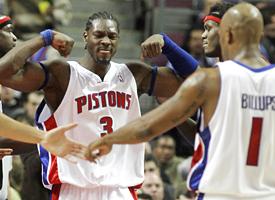 (AP Photo/Duane BurlesonHe might be from Alabama, but no one represent's Detroit's heart and soul better than Ben Wallace.
Notice I said Detroit, not Auburn Hills.  There is a huge difference between Detroit and its suburbs, making this one of the most segregated cities in the country.  The Pistons are where the city and the 'burbs come together, though, where blue-collar whiteness links up with the urban streets. That collaboration is a lethal combination -- just ask the Indiana Pacers.
Yes, this has to be the only place in America where people actually applauded when several members of the Bad Boys walked off the floor without shaking the Bulls' hands back in '91.  I know I did.  Even though the Bad Boys had won two titles and had routinely beaten the Bulls prior to getting swept in '91, MJ and the Jordanaires had never given the Pistons their proper respect, so, cats had to do what they had to do. 
Respect is a big thing in Detroit even for today's Pistons.  It's like Rasheed told Dale Davis last year as Davis was trying to decide whether to sign with the Pistons or the Pacers for the remainder of the season, "Roll with us or get rolled on by us!"  In other words, "Respect our gangsta!"
I normally make my living as a professor and media commentator, breaking down all that needs to be broke down for the masses, from as objective a distance as possible.  But on the one-year anniversary of yet another incident that has tarnished the name of my city, I am speaking here as an unabashed supporter of both Detroit and the Pistons.  Represent!  I gotta keep it real.
As a native Detroiter exiled in La La, my NBA League Pass subscription allows me to keep up with my peeps from long distance now.  I relished being immersed in enemy territory, watching the Pistons wipe the floor with the Lakers in '04. I look forward to seeing another championship banner being raised to the rafters of The Palace and Rasheed wearing another championship belt around the waist of his dress code-mandated attire in '06, too. 
Say what you will about Detroit.  At this point, you can't say anything worse than what's already been said.  We stopped paying attention a long time ago, anyway. 
We take all the negative and turn it into our armor. As Rip Hamilton said after beating the Heat in the closing seconds of the East finals, "That's what we do!"
Dr. Todd Boyd (aka "The Notorious Ph.D.") is the author of "Young Black Rich and Famous: The Rise of the NBA, the Hip Invasion, and the Transformation of American Culture."
SPONSORED HEADLINES
MORE NBA HEADLINES
MOST SENT STORIES ON ESPN.COM