Commentary
Revived Celtics finally getting the better of Kobe, Lakers
Originally Published:
November 24, 2007
By
Marc J. Spears
| Special to ESPN.com
BOSTON -- Several of the ingredients needed for another great installment of the NBA's most storied rivalry between the Boston Celtics and Los Angeles Lakers were there Friday night.
There wasn't a seat to be found in the sold-out TD Banknorth Garden. The stands were littered with nostalgic Celtics fans wearing BEAT LA T-shirts; brave, boisterous Lakers fans; and big-time celebrities. And best of all, this marked the first meeting between the Celtics' new star trio and Kobe Bryant's Lakers.
[+] Enlarge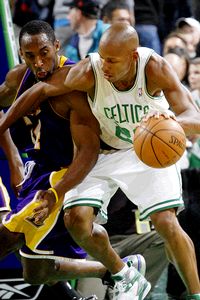 Brian Babineau/Getty ImagesKobe Bryant defends Ray Allen, who wears the uniform of a team he once despised.
But there was one major ingredient missing. Both teams haven't been great at the same time for years and such was also the case on this night as the title-contending Celtics cruised to a 107-94 victory over the average Lakers.
"Since I've been in the league, [the Celtics] sucked," Bryant said. "Now they are kicking our butt. Hopefully, we'll get to the point where there is some parity. If we can get to a point where we can get some parity between us and them, that means we're playing at a championship-caliber level. Hopefully, that will happen."
When you think of the greatest rivalries in all of professional sports, the Celtics-Lakers rivalry must come to mind for several reasons.
The Celtics (16) and Lakers (14, yes Minneapolis must be included) have won more titles than any other teams in NBA history. Can't you see Red Auerbach puffing his victory cigar after one of the six Lakers Finals losses to Boston in the 1960s? No longtime fan of either franchise can forget the storied battles between Bill Russell and Wilt Chamberlain. During the 1980s, there were the bitter games led by the Celtics' Larry Bird and the Lakers' Magic Johnson during either the Finals or on CBS' Sunday afternoon broadcasts.
"I hated those [expletives]," Bryant said. "I couldn't stand them, man. Are you kidding me? Bird. [Kevin] McHale. [Danny] Ainge. Ainge was like a little pest, man. I couldn't stand the guy.
"But you grow older and you understand that it's just beautiful basketball. As a kid, you just don't like them. But then, as you get older, you understand the beauty and the rivalry and the sense of appreciation that you have for it."
Said Celtics forward Kevin Garnett: "If you don't know about the Lakers-Celtics history, then you really don't know basketball."
If you squinted your eyes on this night, you might have thought you were in Staples Center in Los Angeles due to all the celebrities in the crowd.
California governor and actor Arnold Schwarzenegger and his wife, Maria Shriver, were there. Actress Ellen Pompeo sat right next to the Celtics' bench. Players from the undefeated New England Patriots were scattered all over the building. Famed music producer and Garnett's brother-in-law, Jimmy Jam, sat courtside just like he did for Garnett's old games in Minnesota. And former Celtic and Laker Rick Fox, who was booed, was there, too.
"I saw a lot of people in the crowd," Pierce said. "We're starting to bring celebrities out. That's what I like."
Said Garnett: "It was like a playoff atmosphere. This building has a lot of energy in it to begin with, and it was great. It was fun. Anytime you play Kobe and the Lakers, you know it's going to be a war."
Well, not necessarily a "war" on this night with Kobe and these Lakers, KG.
[+] Enlarge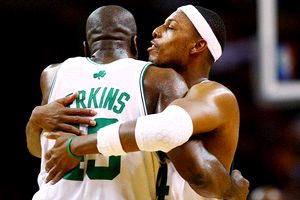 Elsa/Getty ImagesFor scoring a career-high 21, Paul Pierce embraces the force that is Kendrick Perkins.
All the hype ended once the game began. Just like with most of their opponents during this young season, the Celtics took an early lead, never trailed, went up as many as 20 points and cruised to yet another win. Bryant had a quiet 28 points, and the only thing loud about his performance were the boos he received every time he touched the ball.
The star of the night? Not Bryant. Not any of the Celtics' big three. Rather, Celtics center Kendrick Perkins, who earned a career-high 21 points and grabbed nine rebounds.
The Celtics and Lakers haven't been to the Finals together in 20 years. Since Bird and Johnson unlaced their Converse, this rivalry has never been the same. When the Lakers have been great recently with Bryant and Shaquille O'Neal, the Celtics weren't anything to brag about. And now that the Celtics have Garnett, Pierce and Allen, the biggest thing going for the Lakers is Bryant trade rumors.
It wouldn't be a surprise for the Celtics to be back in the Finals this season. But barring a miracle, the Lakers won't be there with them. And while the Celtics-Lakers rivalry is a storied one, the story is getting more and more dust on each page as each lackluster game of the series passes.
"The LA-Boston thing will always be there because of the past," Celtics coach Doc Rivers said, "but not because of what we've done in the present."
Marc J. Spears, an ESPN.com contributor with nine years experience on the NBA beat, covers the Celtics for The Boston Globe.
EDITORS' PICKS
Point guard has become the most vital position in the game. We're ranking the top 30.
ESPN The Mag »

Golden State's hold on No. 1 is as strong as ever, but a few surging teams are climbing.
Rankings »

CP3 sits ahead of Westbrook in the MVP race. Here's why.
Pelton

MOST SENT STORIES ON ESPN.COM