Discussion
Europe's top league turns 50
Originally Published:
May 2, 2008
By
Ian Whittell
| Special to ESPN.com
Ettore Messina, the legendary Italian coach currently in charge of CSKA Moscow, sat in the stands and watched as the NBA paid tribute to its 50 greatest players of all time at the 1997 All-Star Game in Cleveland.
This weekend, in Madrid, Spain, Messina will be one of the honorees as European basketball stages its own version of those half-century celebrations.
"I was in Cleveland personally and that ceremony was extremely moving, extremely touching," said Messina, whose ...

Read full story
Euroleague Turns 50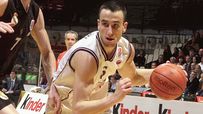 The Euroleague is celebrating 50 years of history this weekend at the Euroleague Final Four.
Euroleague Final Four
•
Langdon wins Euroleague Final Four MVP
•
Wrapping up the Euroleague Final Four
•
CSKA Moscow wins Euroleague title
•
Whittell: Euroleague honors top 50 players
•
Whittell: Best to play in Euroleague and NBA
•
Whittell: Euroleague Final Four preview
•
Whittell: Final Four Observations