Discussion
Reports: Durant beats out Horford for rookie of the year
Updated:
May 1, 2008, 1:56 AM ET
ESPN.com news services
Seattle SuperSonics guard Kevin Durant will be named NBA Rookie of the Year, the Seattle Times and The Associated Press reported.
Durant, who led all first-year players in scoring, assists and free-throw percentage, reportedly beat out Atlanta Hawks forward Al Horford to become the first rookie of the year in Seattle franchise history. The NBA is expected to officially announce the award on Thursday.
Durant averaged 20.3 points per game in 2007-08 -- the highest ...

Read full story
NBA Rookie 50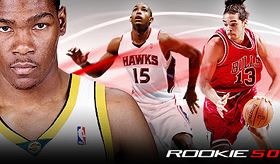 Editor's note: During the regular season, Scouts Inc.'s David Thorpe ranked the rookies and provided observations on the celebrated class.
Check out Thorpe's final Rookie 50 rankings.
Thorpe's Weekly Reports
•
4/16: The top 10 rookies in 2007-08
•
4/08: Stuckey cracks the top 10
•
3/26: Durant, Horford both enjoying March
•
3/19: Hornets' Wright creating some buzz
•
3/12: Scola takes over No. 1 spot
•
3/05: Houston's Landry lands in top 10
•
2/27: Thornton climbs into Top 5
•
2/20: Breaking down Durant and Horford
•
2/13: Who's hot heading into the break?
•
2/06: Who needs to stop chucking?
•
1/30: Noah's rising, Durant's struggling
•
1/23: Navarro, Noah making noise
•
1/16: Conley makes appearance in Top 10
•
1/09: Which players are hitting the wall?
•
1/02: Young, Green, Stuckey showing signs