Discussion
Team USA update: Going small could cause big problem
Originally Published:
June 20, 2008
By
Chris Sheridan
| ESPN.com
Three bigs.
That's it.
When the United States tries to win the gold medal in Beijing this summer, it appears it will try to do it with only three true power forwards and centers -- Dwight Howard, Chris Bosh and Carlos Boozer.
The opinion here?
This is a mistake with the potential to go down as the singular example of the hubris of Mike Krzyzewski and Jerry Colangelo's leadership of Team USA.
Reports surfaced Friday that Tayshaun ...

Read full story
Team USA: Going For Gold In Beijing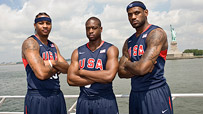 Team USA aims for the gold medal at the Beijing Games, playing its opening game against host China on Aug. 10.
Roster
|
Schedule
|
TV
News
•
Kobe & Co. arrive to heroes' welcome in Beijing
Pre-Olympic Tour
•
Jackson: Team USA will miss Amare
•
Sheridan: Flaws exposed against Aussies
•
Sheridan: Point-guard change?
•
Sheridan: D-Wade is back
•
Sheridan: Meet the Doberman
•
Sheridan: King James mastering FIBA rules
•
Jackson: Melo aiming for gold and more
Video
•
Watch: Best internationals in action
SportsNation
•
Who would you have picked?