Discussion
Draft grades: Evaluating every team, from A+ to D
Originally Published:
June 27, 2008
By
Chad Ford
| ESPN.com
When I'm not covering the draft for ESPN, I grade students for a living as a university professor. So I know that instant grades are based on incomplete information. But they are also a necessary tool for evaluation.
With that in mind ... how did the 30 NBA teams do in Thursday night's draft?
Before Thursday, we billed this as a deep draft without a lot of star power -- and this year's grades reflect the quality of players available.
Teams listed in alphabetical ...

Read full story
2008 NBA Draft: The Aftermath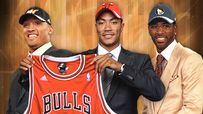 The NBA draft on June 26 in New York elevated the hopes of fans, particularly those in Chicago and Miami.
'08 NBA Draft Index
•
Roundup: A rundown of who went where
•
Keeping up with draft day trades
•
Mayo to Memphis, Love to Minnesota
Chad Ford
•
Handing out team grades
•
Pick-by-pick analysis
•
The 2009 draft preview
Bill Simmons
•
The annual draft night diary
TrueHoop
•
Down in Minnesota
•
The story of draft night
Analysis
•
Scoop: Rose chooses No. 1 over 25
•
Thorpe: Top 20 rookies for 2008
•
Broussard: The MSG scene
•
Hollinger: Loving the deal for Mayo
•
Katz: Big night for UCLA, Pac-10
•
Katz: Underclassmen who went undrafted
•
Wojciechowski: Rose fits the bill
•
Jeer leader: Knicks fans boo Gallinari
Video
•
OTL: The freshman frenzy
•
Davis: Reviewing the picks
•
Legler breaks down the Heat's Beasley pick
•
Legler: Knicks' pick of Gallinari a mistake
Podcasts
•
Ford's review of draft night
SportsNation
•
Map: Beasley projected as best
Fantasy
•
Berry: Fantasy impact of top rookies