Discussion
OKC's Westbrook tearing up summer league
Updated:
July 11, 2008, 11:31 PM ET
By
John Denton
| Special to ESPN.com
ORLANDO, Fla. -- For all those raised eyebrows and puzzled experts who questioned Russell Westbrook's being chosen fourth overall in last month's NBA draft, a scout monitoring the Orlando Pro Summer League had this to offer Thursday: "He's flat-out the best player here not named Kevin Durant."
Lofty praise indeed for a herky-jerky point guard who some thought at one time was only the third-best player on his Final Four team at UCLA. High marks, for sure, for the player ...

Read full story
2008 SUMMER LEAGUE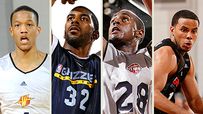 The youngest stars get their chance to show their stuff in the three summer leagues: in Las Vegas, in Orlando and at the Rocky Mountain Revue.
Rocky Mountain Revue
•
Buckley: Morrow nets MVP honors
•
Buckley: Randolph has the moves
•
Buckley: Hill aims for role in Spurs backcourt
•
Buckley: Claxton tests knee on comeback trail
•
Buckley: Green out to change his rep in Dallas
•
Buckley: Koufos struggles in summer debut
•
Complete Schedule
|
Team rosters
Las Vegas
•
Complete schedule, results
•
TrueHoop: Brooks' Vegas wrap-up
•
TrueHoop: Day10 liveblogging from Vegas
•
Watch: Pops shines for Wolves
•
J.A. Adande: A glimpse at the Warriors' future
•
TrueHoop: Day 9 liveblogging from Vegas
•
Stein: One last blast of chatter from Vegas
•
TrueHoop: Day 8 Liveblogging from Vegas
•
Las Vegas Summer League midway point awards
•
TrueHoop: Day 7 liveblogging from Vegas
•
Watch: Love shines in win over Blazers
•
TrueHoop: Day 6 liveblogging from Vegas
•
'Creative scorer' Mayo struggles at PG, scores 20
•
Mayo with mustard: 69-footer spices Vegas game
•
TrueHoop: Day 5 liveblogging from Vegas
•
Bayless impresses in loss to Kings
•
Sixers' big men shine in win over Lakers
•
Thorpe's rookie notes from summer league
•
TrueHoop: Day 4 liveblogging from Vegas
•
Watch: Gallinari's winning debut with Knicks
•
Watch: Bayless nets 28 in his Portland debut
•
Watch: Mavs roll past Love, Wolves
•
TrueHoop: Eyeing Love, Gallinari debuts
•
Clippers' Gordon injures hamstring
•
TrueHoop: Day 3 liveblogging from Vegas
•
Stein: No Oden cameo in LV
•
Watch: Belinelli's 25 leads Warriors past Mavs
•
Watch: Lakers top Mayo, Grizzlies
•
TrueHoop: Day 2 liveblogging from Vegas
•
TrueHoop: Day 1 liveblogging from Vegas
•
Watch: Mayo dunks on Armstrong
•
TrueHoop: What to watch in Vegas
•
TrueHoop: O.J. Mayo pro debut
Orlando
•
Schedule and results
|
League rosters
•
Best and worst of Orlando
•
Day 4: Westbrook tears up summer league
•
Day 3: Chalmers, CDR playing with chip
•
Day 2: Durant surprises, leads OKC to win
•
Day 1: Beasley stars in summer league debut
•
Watch: Beasley beats Rose in debut
•
Watch: David Thorpe on Michael Beasley
Analysis
•
TrueHoop: Summer league buzz
•
Thorpe: Rookie watch
•
Thorpe: Top 50 rookies