Discussion
Ewing's hot and cold relationship with Knicks fans
When the conversation turns to Patrick Ewing, the mood quickly changes from love to lament for Knicks fans, but there's a whole lot of respect for No. 33, writes Matt Wong.
Updated:
September 8, 2008, 1:51 PM ET
By
Matt Wong
| ESPN.com
A couple of years ago when Larry Brown was ruining my beloved Knicks, I wrote an article longing for the days of John Starks and Charles Oakley and, way back to before I can remember, Walt Frazier. I was yearning for a team that played with heart, a team that would battle or at least compete for more than, uh, a half.
However, I neglected to mention Patrick Ewing, who will be enshrined in the Basketball Hall of Fame on Friday and who so happens to be my favorite Knick ...

Read full story
2008 Hall Of Fame Class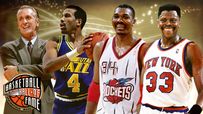 Enshrining NBA Greats

Pat Riley
A mastermind on the sidelines for the Lakers, Knicks and Heat. Won five championships and three coach of the year honors.
Adande: Best of Riley
---

Hakeem Olajuwon
The Dream was selected to 12 All-Star teams, won two defensive player of the year awards and the '93-94 MVP.
Adande: Olajuwon was great
---

Patrick Ewing
Ewing played for 17 seasons, was selected to 11 All-Star teams and won the 1985-86 Rookie of the Year award.
Wong: Hot/cold career
---

Adrian Dantley
Played for 15 seasons, was named to six All-Star teams and won the 1976-77 Rookie of the Year award.
Truehoop: HOF coverage
---
Columnists
•
Adande: MJ or no MJ, Olajuwon was great
•
Wong: Ewing's hot and cold relationship
•
TrueHoop: Mario Elie on Olajuwon
•
Adande: Best of Riley overshadows worst of Riley
•
Pat Riley through the years: From HS to college
•
ESPN.com ranks the greatest centers
---
2007 Hall Of Fame
•
Adande: Secret to the Zen Master's success
•
Stein: NBA not looking to create own hall shrine
•
TrueHoop: The NBA's hall of frustration