Discussion
Draft Watch: Rubio's hot, Collison's not
Originally Published:
September 22, 2008
By
Chad Ford
| ESPN.com
NBA scouts continue to offer dire warnings about the NBA draft class of 2009. After two stellar years, thanks to amazing college freshman classes, a draft drought may be on the way.
"Even if you assume everyone declares for the draft next June," one longtime NBA executive said, "you'll struggle to find much star power or depth next year. My scouts are walking around depressed already and it's September."
Sometimes things change over the course of the college basketball ...

Read full story
2009 NBA DRAFT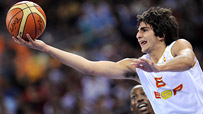 Who are the best prospects eligible for the 2009 draft? Here's the early word. 2009 Draft Index
Chad Ford
•
Draft Watch: Who was great in '08?
•
Draft Watch: Naughty and nice list
•
Draft Watch: Louisville's Clark climbing
•
Draft Watch: Curry's driving up the charts
•
Draft Watch: Rubio's hot, Collison's not
•
Ford: Top 100 prospects
Watch: Draft Video
•
Brandon Jennings, Italy
•
Earl Clark, Louisville
•
Jrue Holiday, UCLA
•
Hasheem Thabeet, UConn
•
James Harden, Arizona State