Discussion
LeBron leaving Cleveland? 'It's not a foregone conclusion'
Is LeBron leaving Cleveland for New York? It's still too early to tell, writes Chris Broussard.
Originally Published:
November 25, 2008
By
Chris Broussard
| ESPN The Magazine
After LeBron James dropped 31 points on the Nets and survived the voracious New York media last Tuesday, I told him, "You know tomorrow's newspapers are going to have you heading to New York.''
He laughed, shook his head and said, "Everybody thinks they know where I'm going before I even know."
That, of course, was before two Knicks trades last Friday cleared boatloads of cap room for the offseason of 2010, also known as "The Summer of LeBron.'' Now, with the Knicks ...

Read full story
Summer of 2010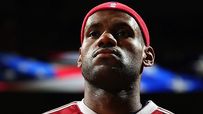 The summer of 2010 is a hot topic right now, with LeBron at the heart of it all. But where does King James think he'll be? We ask him.
Watch
News
•
Complete 2009-10 free agent lists
•
Barkley: Free-agency talk disrespects Cavs
•
Cavs owner sees LBJ talk as just a "media phenomenon"
•
Knicks deal themselves into 2010 market
•
Pistons gain cap flexibility with Iverson deal
Commentary
•
Broussard: Is staying in Cleveland an option?
•
Sheridan: New York welcoming party
•
Stein: Kicking off Knicks' shopping spree
•
Sheridan: LeBron looks at home at MSG
•
TrueHoop: James' flirtation with the Big Apple
•
Adande: Why does N.Y. fit for LeBron?
•
Stephen A. Smith: Amare wants to be the star
Podcasts
•
Earl Monroe: Why Knicks' focus on 2010?
•
Bucher: N.Y. is only reason Bron would leave
•
Chris Webber: I'd go to N.Y. if I were LBJ
•
Stephen A.: Waiting for the King