Discussion
LeBron looks at home at MSG
Updated:
December 5, 2008, 5:34 PM ET
By
Chris Sheridan
| ESPN.com
NEW YORK -- His first attempt was a set shot from the 3-point line, and naturally, he drilled it.
His toes never completely left the floor on his second shot either, this one another 3-pointer that drained through the bottom of the net.
So, it was immediately clear Tuesday night that LeBron James was quite comfortable with his feet planted squarely on the ground in this, his favorite city, and the King barely had to break a sweat as the Cleveland Cavaliers romped past New ...

Read full story
Summer of 2010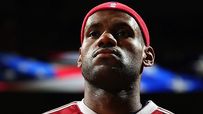 The summer of 2010 is a hot topic right now, with LeBron at the heart of it all. But where does King James think he'll be? We ask him.
Watch
News
•
Complete 2009-10 free agent lists
•
Barkley: Free-agency talk disrespects Cavs
•
Cavs owner sees LBJ talk as just a "media phenomenon"
•
Knicks deal themselves into 2010 market
•
Pistons gain cap flexibility with Iverson deal
Commentary
•
Broussard: Is staying in Cleveland an option?
•
Sheridan: New York welcoming party
•
Stein: Kicking off Knicks' shopping spree
•
Sheridan: LeBron looks at home at MSG
•
TrueHoop: James' flirtation with the Big Apple
•
Adande: Why does N.Y. fit for LeBron?
•
Stephen A. Smith: Amare wants to be the star
Podcasts
•
Earl Monroe: Why Knicks' focus on 2010?
•
Bucher: N.Y. is only reason Bron would leave
•
Chris Webber: I'd go to N.Y. if I were LBJ
•
Stephen A.: Waiting for the King