Discussion
Draft Watch: Curry's driving up charts
Originally Published:
December 4, 2008
By
Chad Ford
| ESPN.com
We're two full weeks into the college basketball season, and NBA scouts are out in force, filling their databases with every detail about every top player in the country.
Early on, the sentiment remains the same as it was all summer -- much like the U.S. economy, the overall quality of NBA draft prospects is in a recession this year.
Part of the blame lies with the inordinate number of young players who bolted for the NBA last season. Another big part has to do with ...

Read full story
2009 NBA DRAFT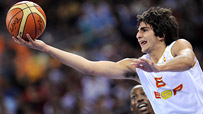 Who are the best prospects eligible for the 2009 draft? Here's the early word. 2009 Draft Index
Chad Ford
•
Draft Watch: Who was great in '08?
•
Draft Watch: Naughty and nice list
•
Draft Watch: Louisville's Clark climbing
•
Draft Watch: Curry's driving up the charts
•
Draft Watch: Rubio's hot, Collison's not
•
Ford: Top 100 prospects
Watch: Draft Video
•
Brandon Jennings, Italy
•
Earl Clark, Louisville
•
Jrue Holiday, UCLA
•
Hasheem Thabeet, UConn
•
James Harden, Arizona State