Discussion
Wolves replace Wittman with McHale
Updated:
December 8, 2008, 8:49 PM ET
Associated Press
MINNEAPOLIS -- When Minnesota Timberwolves owner Glen Taylor fired Randy Wittman on Monday and asked Kevin McHale to step in, he didn't just make a coaching change.
Taylor changed the entire complexion of an organizational structure that has featured McHale at the top of the totem pole for the last 13 years.
Not only did Taylor ask McHale to take over as coach of a young, confidence-strapped team, but he also relieved McHale of the vice president of basketball operations title he has ...

Read full story
Coaching Changes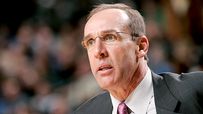 The Grizzlies fired coach Marc Iavaroni on Jan. 22 after an 11-30 start, making him the seventh NBA coach replaced this season.
Story
•
Sources: Avery Johnson turns down job
Kings

•
Theus fired after 6-18 start
•
Watch: Theus out
Sixers
•
Cheeks out after 9-14 start

•
Hollinger: Offensive woes
•
Insider: Numbers' tale
•
Sheridan: Stefanski's take
•
TrueHoop: The Sendoff Games
•
Stephen A. Smith on the change
Timberwolves

•
McHale replaces Wittman
•
Watch: McHale's decision
•
Sheridan: Who's next to go?
Raptors

•
NBA's first Canadian coach
•
Hollinger: Focus on Raps GM
•
Legler on Mitchell firing
Wizards

•
TrueHoop: Surprised by firing
•
Eddie Jordan out as Wizards coach
Thunder

•
Carlesimo out after 1-12 start
•
Insider: Thunder's road ahead