Discussion
In time of need, Clippers deliver some joy (and the rent)
The Clippers' holiday sharing event for the needy had the kids on hand excited. Then when Baron Davis announced free rent for a month, the adults let out a roar, J.A. Adande writes.
Updated:
August 6, 2009, 1:16 PM ET
By
J.A. Adande
| ESPN.com
LOS ANGELES -- Somewhere on the scale between coincidence and destiny there's an explanation for how the basketball players, the seamstress and the former auditor wound up in one room, a place filled with festivity and presents.
It can't really be free will when those who have the unlimited options granted by money and spare time occupy the same space as people who are there specifically because they have nowhere else to turn. There was a common ground formed by circumstances ...

Read full story
ESPN.COM'S LOOK AT THE YEAR AHEAD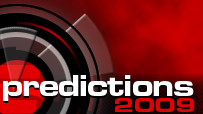 What to expect across the sports spectrum in 2009? ESPN.com offers things you might see coming, some you won't and some that will just flat-out surprise. Predictions to consider:
PRO SPORTS
COLLEGE SPORTS
MORE SPORTS