Discussion
What's coming down the line in '09?
Updated:
January 4, 2009, 10:47 PM ET
ESPN.com
As 2009 gets under way, here's what our writers see in the year ahead.
The Year Of The Cavs Chad Ford, ESPN.com: I predict that 2009 will be the year of the Cavs. Sure the Cavs are in a position to win the NBA title in '09, but that's not what I'm talking about.
I predict Cavs GM Danny Ferry and owner Dan Gilbert will pull out all the stops to make sure LeBron James can't come up with a good reason to leave in the summer of 2010. By most accounts, LeBron is ready and willing ...

Read full story
ESPN.COM'S LOOK AT THE YEAR AHEAD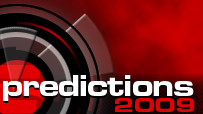 What to expect across the sports spectrum in 2009? ESPN.com offers things you might see coming, some you won't and some that will just flat-out surprise. Predictions to consider:
PRO SPORTS
COLLEGE SPORTS
MORE SPORTS