Discussion
Draft Watch: The naughty and nice list
Originally Published:
December 24, 2008
By
Chad Ford
| ESPN.com
Roughly 10 games into this college basketball season, many NBA scouts have begun to throw their hands up in the air. Yes, Oklahoma's Blake Griffin looks like an NBA star in waiting. After him, though, everyone on the board looks like a risk.
Ricky Rubio is recovering from a wrist injury. Hasheem Thabeet looks like an offensive liability. James Harden is undersized and lacks great athleticism. Stephen Curry has struggled in the spotlight for the second straight game. Brandon ...

Read full story
2009 NBA DRAFT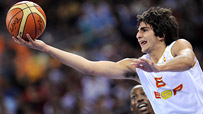 Who are the best prospects eligible for the 2009 draft? Here's the early word. 2009 Draft Index
Chad Ford
•
Draft Watch: Who was great in '08?
•
Draft Watch: Naughty and nice list
•
Draft Watch: Louisville's Clark climbing
•
Draft Watch: Curry's driving up the charts
•
Draft Watch: Rubio's hot, Collison's not
•
Ford: Top 100 prospects
Watch: Draft Video
•
Brandon Jennings, Italy
•
Earl Clark, Louisville
•
Jrue Holiday, UCLA
•
Hasheem Thabeet, UConn
•
James Harden, Arizona State