Discussion
Draft Watch: Looking back at 2008
Originally Published:
January 2, 2009
By
Chad Ford
| ESPN.com
With the new year upon us and a third of the college basketball season behind us, it's time to do an assessment of which NBA draft prospects helped or hurt their draft stock in 2008.
While there have been some adjustments to our 2009 NBA Draft Big Board since it debuted in late June, the adjustments have been subtle.
Here's how the Top 10 looked the day after the 2008 NBA Draft:
1. Blake Griffin 2. Ricky Rubio 3. DeMar DeRozan 4. Brandon Jennings 5. Austin ...

Read full story
2009 NBA DRAFT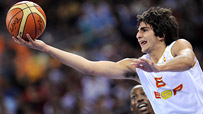 Who are the best prospects eligible for the 2009 draft? Here's the early word. 2009 Draft Index
Chad Ford
•
Draft Watch: Who was great in '08?
•
Draft Watch: Naughty and nice list
•
Draft Watch: Louisville's Clark climbing
•
Draft Watch: Curry's driving up the charts
•
Draft Watch: Rubio's hot, Collison's not
•
Ford: Top 100 prospects
Watch: Draft Video
•
Brandon Jennings, Italy
•
Earl Clark, Louisville
•
Jrue Holiday, UCLA
•
Hasheem Thabeet, UConn
•
James Harden, Arizona State