Discussion
Rookie Watch: Who's bringing the D?
Originally Published:
January 6, 2009
By
David Thorpe
| Scouts Inc.
Conventional wisdom suggests NBA coaches may preach about defense but will always defer to good offense if given the choice. But in reality, coaches are more pragmatic than that. They will look to players, rookies or not, who can help their teams. And if they need more help on defense, then that's what they'll look for. (The same goes for rebounding, shot-blocking, athleticism, etc.)
So rooks trying to move up in the rotation need to be aware of just what their team is in short supply of ...

Read full story
NBA Rookie 50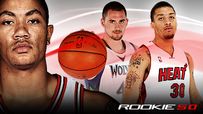 During the regular season, Scouts Inc.'s David Thorpe ranks the rookies and provides observations on the entire class. Rookie 50
Thorpe's weekly reports
•
01/06: Who's bringing the D?
•
12/30: Big men making their mark
•
12/23: Hunting for playoff minutes
•
12/17: Mayo takes over No. 1 spot
•
12/10: Westbrook soars into top 10
•
12/02: Augustin races into top 10
•
11/26: Oden climbs back into top 10
•
11/18: Rose takes over No. 1 spot
•
11/11: Mayo jumps into top five
•
11/05: Fernandez shoots to top of the list
•
10/29: The debuts of Rose, Oden
•
10/24: Oden begins season at head of class