Discussion
Rookie Challenge: Durant's soar spot
Originally Published:
February 14, 2009
By
John Hollinger
| ESPN.com
PHOENIX -- We normally don't pay much attention to the rookie-sophomore game, and with good reason. Normally it isn't competitive, and it's basically a glorified alley-oop contest, and we don't really learn much.
Tonight was the exception -- a deeply entertaining, glorious exception, one that was made possible by an unusually strong rookie class, a few weak selections for the sophs and an unusual number of teammates competing against one another.
And thanks to those conditions, we ...

Read full story
NBA Rookie 50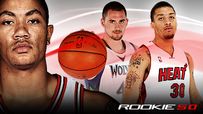 During the regular season, Scouts Inc.'s David Thorpe ranks the rookies and provides observations on the entire class. Rookie 50
Thorpe's weekly reports
•
01/06: Who's bringing the D?
•
12/30: Big men making their mark
•
12/23: Hunting for playoff minutes
•
12/17: Mayo takes over No. 1 spot
•
12/10: Westbrook soars into top 10
•
12/02: Augustin races into top 10
•
11/26: Oden climbs back into top 10
•
11/18: Rose takes over No. 1 spot
•
11/11: Mayo jumps into top five
•
11/05: Fernandez shoots to top of the list
•
10/29: The debuts of Rose, Oden
•
10/24: Oden begins season at head of class