Discussion
Robinson, Cook, Rose shine in Phoenix
Updated:
February 15, 2009, 10:28 AM ET
Associated Press
PHOENIX -- Call him Krypto-Nate.
Nate Robinson tugged on Superman's cape -- and won.
The diminutive New York Knicks guard beat defending champion Dwight Howard of Orlando in an electrifying slam dunk contest on Saturday night, winning 52 percent of fans' votes.
Clad in an all-green Knicks uniform with green shoes, the 5-foot-9 Robinson springboarded over the 6-foot-11 Howard to jam.
"Dwight was a great sport letting me dunk over him," said Robinson, who also won ...

Read full story
NBA All-Star Weekend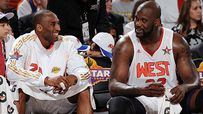 Sunday: All-Star Game
All-Star Saturday