Discussion
Rookie Watch: Two-way tie for No. 1
Originally Published:
March 4, 2009
By
David Thorpe
| Scouts Inc.
Years ago, I heard about a short little shooter (whose name is not important) heading into the 10th grade. I went to watch him play at a basketball camp that featured nothing but top-rated players, 16 and under. Most observers thought he'd be overwhelmed by the talent.
He played well in his first game, but his team trailed by 9 with 50 seconds to go. However, he then made three consecutive 3-pointers, plus a steal, and suddenly the game was tied. We all stood slack-jawed at what ...

Read full story
NBA Rookie 50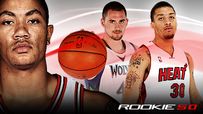 During the regular season, Scouts Inc.'s David Thorpe ranks the rookies and provides observations on the entire class. Rookie 50
Thorpe's weekly reports
•
01/06: Who's bringing the D?
•
12/30: Big men making their mark
•
12/23: Hunting for playoff minutes
•
12/17: Mayo takes over No. 1 spot
•
12/10: Westbrook soars into top 10
•
12/02: Augustin races into top 10
•
11/26: Oden climbs back into top 10
•
11/18: Rose takes over No. 1 spot
•
11/11: Mayo jumps into top five
•
11/05: Fernandez shoots to top of the list
•
10/29: The debuts of Rose, Oden
•
10/24: Oden begins season at head of class