Discussion
PER Diem: March 5, 2009
How good is Brandon Roy? He might just be the seventh-best player in the NBA
Updated:
March 5, 2009, 3:15 PM ET
By
John Hollinger
| ESPN.com
PORTLAND -- Brandon Roy needs a nickname, so let me boldly propose one: The Magnificent Seven.
For starters, he wears No. 7, which is helpful. But this season, he's the magnificent No. 7 in more ways than one.
Take a look at the NBA this season. Six players have been a cut above the rest -- LeBron James, Tim Duncan, Dwight Howard, Chris Paul, Kobe Bryant and Dwyane Wade. But who has been the seventh-best? Search around, and you won't find anyone with a better case than Roy.
He ...

Read full story
The NBA On ESPN.com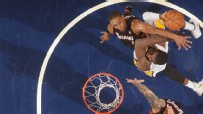 Follow the NBA on ESPN:
Twitter / Facebook / Google+
LATEST CONTENT
REGULAR FEATURES
ESPNNBA

NBA on ESPN


ICYMI: LeBron snapped at Mario Chalmers during the Heat-Pacers game, but later apologized - http://t.co/yXMw0GRtBC
about 2 hours ago

ESPNNBA

NBA on ESPN


Who had the top play of the night, @KingJames, @RickyRubio9 or @KembaWalker: http://t.co/YgSaoflxZ9
about 3 hours ago

DimeUpdate

Dime Update


Anthony Davis with 24 and 12 in his return from injury, but that isn't enough to overcome Lob City. Clips win 108-95.
about 3 hours ago

ESPNNBA

NBA on ESPN


Wednesday @BrandonKnight07, @Dame_Lillard, @deandrejordan and @Teague0 topped the stats leaderboards: http://t.co/921iQ2yLCw
about 3 hours ago

ESPNNBA

NBA on ESPN


.@utahjazz PG @Trey_Burke3 earned one of @SportsCenter's #SC3stars of the night. http://t.co/uli4LAOX6D
about 3 hours ago

ESPNNBA

NBA on ESPN


Jordan 6-6 from field, finishes with 14p, 20r, 5b in Clippers win over Pelicans.BOX SCORE: http://t.co/qtBg97yGNa http://t.co/dDaNsoKVIq
about 3 hours ago

DimeUpdate

Dime Update


After three, the Clippers lead the Pelicans 78-65. Blake Griffin leads all scorers with 21 points
about 4 hours ago

ESPNNBA

NBA on ESPN


Catch NBA Tonight with @CassidyHubbarth and @CoachKarl22 (1 AM ET, ESPN2). They're #DroppingDimes with the best passes of the week.
about 4 hours ago

ESPNNBA

NBA on ESPN


Howard posts 23p, 9r as Rockets blow out Bulls.BOX SCORE: http://t.co/DPaV2zWHIZ http://t.co/8ty3Bc3qye
about 4 hours ago

ESPNNBA

NBA on ESPN


Visual evidence of JR Smith's 17 3-pt attempts RT @TheRealJRSmith: Lol 17 threes tho! Had to say damn my self! http://t.co/SBjvjub3Rg
about 4 hours ago

DimeAlert

Dime Alert


Clippers with a 13-2 run, take a 68-53 lead midway through the 3rd quarter. Pelicans timeout.
about 4 hours ago

ESPNNBA

NBA on ESPN


RT @jadande: Remember: blowouts increase the likelihood of Jeff Van Gundy rants/tangents. #Rockets #Bulls #staytuned
about 4 hours ago

jadande

J.A. Adande


Remember: blowouts increase the likelihood of Jeff Van Gundy rants/tangents. #Rockets #Bulls #staytuned
about 4 hours ago

ESPNNBA

NBA on ESPN


The @HoustonRockets ended the 3rd on a 15-1 run to take an 83-66 lead over the @chicagobulls on ESPN: http://t.co/UufcfDUXMb
about 5 hours ago

DimeUpdate

Dime Update


Clippers lead the Pelicans 52-45 at the half. Difference is the FT line. Clips are 16-18. Pelicans are 3-5.
about 5 hours ago

ESPNNBA

NBA on ESPN


Manu Ginobili (24p, 6r, 7a) comes up big off bench as Spurs beat Suns.BOX SCORE: http://t.co/przLdcb5bJ http://t.co/eFv0yLXDwk
about 5 hours ago

DimeUpdate

Dime Update


Ballgame! Spurs win 108-101. Vintage Ginobili tonight with 24, 7 assists, 6 rebounds. Frye had 21 for the Suns
about 5 hours ago

ESPNNBA

NBA on ESPN


4:21 left in the 3rd and the @HoustonRockets lead the @chicagobulls 71-65. Tune in on ESPN/WatchESPN: http://t.co/UufcfDUXMb
about 5 hours ago

DimeUpdate

Dime Update


With just a little more than 5 mins left in the second quarter, the Clippers lead the Pelicans 40-35. Darren Collison has been key off bench
about 5 hours ago

DimeSmash

Dime Smash!


OH SHOOT OH SHOOT EMAAAANUEEEL
about 5 hours ago