Discussion
Rookie Watch: Who's got promise?
Here are a few rookies who could have solid careers despite so-so rookie seasons
Originally Published:
March 18, 2009
By
David Thorpe
| Scouts Inc.
Can you guess the two things the following players have in common?
Kobe Bryant, Dirk Nowitzki, Danny Granger, Kevin Martin, Al Jefferson, Devin Harris, Antawn Jamison, Zach Randolph, Joe Johnson, Tony Parker, Stephen Jackson, Michael Redd, Al Harrington and David West.
The first should be pretty easy to figure out: All of these guys are big-time scorers in the NBA, averaging 20-plus points per game, to be exact. And at 19.7 ppg, Corey Maggette is close to joining this club, ...

Read full story
NBA Rookie 50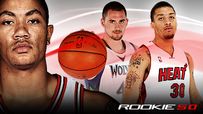 During the regular season, Scouts Inc.'s David Thorpe ranks the rookies and provides observations on the entire class. Rookie 50
Thorpe's weekly reports
•
01/06: Who's bringing the D?
•
12/30: Big men making their mark
•
12/23: Hunting for playoff minutes
•
12/17: Mayo takes over No. 1 spot
•
12/10: Westbrook soars into top 10
•
12/02: Augustin races into top 10
•
11/26: Oden climbs back into top 10
•
11/18: Rose takes over No. 1 spot
•
11/11: Mayo jumps into top five
•
11/05: Fernandez shoots to top of the list
•
10/29: The debuts of Rose, Oden
•
10/24: Oden begins season at head of class