Discussion
Mutombo's message: It's OK to dream
Mutombo showed how one person can help make changes in the lives of those in need
Updated:
April 22, 2009, 5:32 PM ET
By
Chad Ford
| ESPN.com
Editor's note: This article ran in September of 2003.
"Do what you can, with what you have, where you are." -- Theodore Roosevelt
SOWETO, SOUTH AFRICA -- In the novel "The Power of One," by Bryce Courtenay, Peekay, a young white boy raised by natives, joins forces with the Zulus to do the unthinkable in 1940s South Africa -- teach blacks how to read and write.
Courtenay's novel was not only a stinging indictment of South Africa's repressive apartheid regime. It also was a ...

Read full story
NBA Playoffs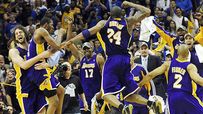 TODAY'S BEST
MORE ON THE PLAYOFFS