Discussion
'Flagrants' foul up playoff picture
Originally Published:
April 29, 2009
By
John Hollinger
| ESPN.com
Two games. Two calls. Two series.
And at the end of the night, we were looking at a high likelihood of a Celtics-Magic Eastern Conference semifinals instead of a Bulls-Sixers pairing because of those two whistles. Both involved flagrant fouls that weren't called as such, both went in favor of the home team and both may very well end up swinging the series.
As luck would have it, of course, this came a day after I had written that officiating had been largely a nonissue through ...

Read full story
Flagrant Fallout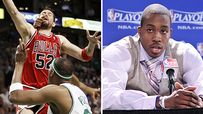 RONDO AND HOWARD REACTION