Discussion
Latest word on futures of Nash, Kidd
Updated:
May 18, 2009, 5:27 PM ET
By
Marc Stein
| ESPN.com
Some fresh pours of chatter from the NBA grapevine, culled from various plugged-in sources around the league:
Steve Nash is one of the many desirable names on the long, intoxicating list of 2010 free agents.
Yet it's looking increasingly probable that this summer will be the offseason that brings clarity to Nash's future, via one of two outcomes:
1. He will sign the multiyear contract extension that the Suns have been preparing for him.
2. The possibility that the ...

Read full story
NBA Playoffs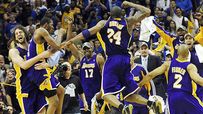 TODAY'S BEST
MORE ON THE PLAYOFFS