Discussion
NBA draft lottery preview
Here's what each lottery team might do if it landed one of the top three picks
Updated:
May 19, 2009, 5:45 PM ET
By
Chad Ford
| ESPN.com
• Play the Lottery + Mock Draft: Over 2,000 scenarios
SECAUCUS, N.J. -- The 2009 NBA draft lottery is Tuesday night (ESPN, 8:30 p.m. ET). Fourteen teams will vie for the No. 1 pick in the draft based off of the NBA's lottery process, which was developed to help the NBA's worst teams rebuild by having the highest pick in the draft. More often than not, however, the results haven't gone as planned.
Since 1990, only four teams with the worst record have won the lottery: ...

Read full story
2009 NBA Draft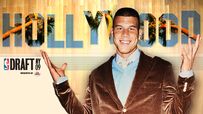 The 2009 NBA Draft is in the books.
Home
TODAY'S BEST
INSIDER: D.R.A.F.T. INITIATIVE