Discussion
Mock Draft: Version 2.0
Updated:
May 27, 2009, 7:05 PM ET
By
Chad Ford
| ESPN.com
In the week since we debuted our first full mock draft of 2009, I've gotten a lot of feedback from NBA scouts and executives around the league.
While there are only a few significant changes to this edition of the mock draft, we should expect a lot more changes over the next four weeks.
The Chicago NBA pre-draft combine is this week, and every front office in the league will be there to evaluate and gossip. After that, the Reebok Eurocamp, which is especially loaded this year, will ...

Read full story
2009 NBA Draft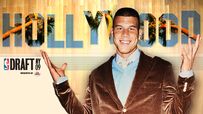 The 2009 NBA Draft is in the books.
Home
TODAY'S BEST
INSIDER: D.R.A.F.T. INITIATIVE