Discussion
Cavs advanced as far as they could
ORLANDO -- I have an old college teammate who is hurting right now. Born and raised in Cleveland, he nearly cried in his dorm room after "The Fumble" cost the Browns a trip to Super Bowl XXII in 1988.
He obviously enjoyed this season's Cavaliers, but he celebrated their every victory and individual accolade with caution, fearing that come playoff time, they would be "exposed."
His fears were well warranted.
The annals will record this as the first time in the LeBron James ...

Read full story
NBA Playoffs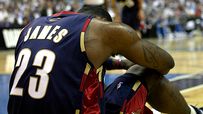 CLEVELAND CAVALIERS BOW OUT
SERIES PAGES