Discussion
Nelson's injury allows for early return
Just four months after undergoing shoulder surgery, Orlando Magic point guard Jameer Nelson has already answered the question of whether he could play and whether he would play in the NBA Finals.
As the Magic face off against the Los Angeles Lakers, however, one question remains the same: What exactly is a realistic expectation for Nelson at this point?
The answer is complicated and requires a look back at just what has happened for Nelson and his team in the past few months.
Nelson ...

Read full story
NBA Playoffs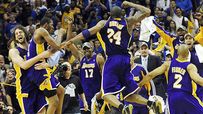 TODAY'S BEST
MORE ON THE PLAYOFFS