Discussion
No. 8: Portland Trail Blazers
Originally Published:
June 11, 2009
By
John Hollinger
| ESPN.com
8. PORTLAND TRAIL BLAZERS: 51.05 POINTS PER SEASON (1970-2009)
Wins: 1,683 Playoff wins: 93 Series wins: 19 Titles: 1 All-Stars: 33
Best player: Clyde Drexler Best coach: Jack Ramsay Best team: 1976-77 (49-33, NBA champions) Intangibles: -50. Two words: Jail Blazers.
Next time somebody tells you about the importance of playoff experience, remind them of the 1977 Trail Blazers. Talk about inexperienced: The franchise had never even been to a ...

Read full story
Hollinger's NBA Franchise Rankings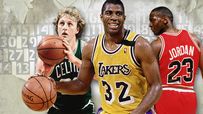 How do all 30 teams stack up for all time? John Hollinger ranks each squad from best to worst.
INTRODUCTION
TOP 10
INSIDER