Discussion
Van Gundy, Magic believe they can rally
Updated:
June 14, 2009, 1:45 PM ET
Associated Press
ORLANDO, Fla. -- Dwight Howard has his bags packed.
Showing off an it's-not-over-yet smile and a confident attitude, the Orlando Magic center said Saturday that the NBA finals will be headed back to Los Angeles. The Magic are down 3-1 to the Lakers but want to "make history," starting with Game 5 on Sunday in their final home game of the best season in franchise history.
"You want me to get up here and say the season is going to be over tomorrow? That's not what anybody should do ...

Read full story
NBA Playoffs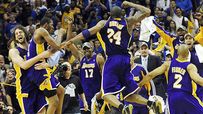 TODAY'S BEST
MORE ON THE PLAYOFFS