Discussion
Not fouling was the right choice
Originally Published:
June 13, 2009
By
John Hollinger
| ESPN.com
ORLANDO, Fla. -- Readers have heard me say it countless times -- foul when you're up by three points in the final seconds. Orlando didn't do it in the final seconds on Friday, and it cost them ...
Or did it?
With 11 seconds left, there was more time left than the typical "foul when you're up three" situation, especially since the Lakers still had a timeout and could advance the ball if they so chose after Orlando free throws.
That meant that an Orlando foul in the ...

Read full story
NBA Playoffs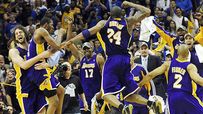 TODAY'S BEST
MORE ON THE PLAYOFFS