Discussion
Thabeet cancels Grizzlies workout
Updated:
June 21, 2009, 8:20 PM ET
Associated Press
MEMPHIS, Tenn. -- Hasheem Thabeet canceled a pre-draft workout with the Memphis Grizzlies on Sunday citing a shoulder injury, but he also had plans to talk to other teams.
"Thabeet was a combination of he's had some shoulder situations and he wanted to talk to some other teams," Grizzlies general manager Chris Wallace said of the 7-foot-3 center out of Connecticut. "It's also what goes on this time of the year with guys showing, not showing, that type of thing. The gamesmanship of the draft."
Memphis ...

Read full story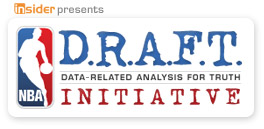 In the lead-up to the NBA draft on June 25, Insider digs deep with the D.R.A.F.T. Initiative. Make sure to check out our hubs for pick-based and team-based analysis, as well as the methodology behind our research.
THE D.R.A.F.T. INITIATIVE
MORE DRAFT COVERAGE