Discussion
NBA should impose 'two-and-done' limit
Stern's expected push to up league's age limit would provide much-needed maturity
Updated:
June 23, 2009, 12:04 AM ET
By
Marc Stein
| ESPN.com
The stat was recited repeatedly throughout the NBA Finals, as if it were evidence to conclusively slam the one-and-done rule in college basketball.
Remember?
How many times did you hear that the Los Angeles Lakers and Orlando Magic each had two American-born starters who successfully made the jump from high school straight to the real world?
Only one problem with that stat.
No one ever bothered to mention how many members of that quartet were actually NBA-ready when ...

Read full story
2009 NBA Draft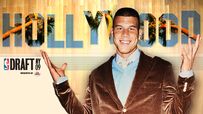 The 2009 NBA Draft is in the books.
Home
TODAY'S BEST
INSIDER: D.R.A.F.T. INITIATIVE