Discussion
Summer Forecast: Rookie of the Year
Updated:
September 14, 2009, 3:31 PM ET
Welcome to the second annual edition of our Summer Forecast series.
Over the next couple of weeks, we'll roll out our predictions for the 2009-10 season's Best Newcomers, Worst Newcomers, MVP, conference champions and NBA champs. We'll also foretell how each team will do this season, and provide our educated guesses on where LeBron James, Dwyane Wade, Chris Bosh, Amare Stoudemire and Shaquille O'Neal will play in 2010-11.
To do this, we've asked 53 of ESPN's best basketball ...

Read full story
2009-10 Predictions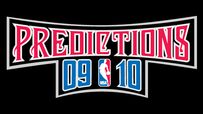 LOOK AHEAD TO 2009-10