Discussion
Summer Forecast: NBA champs
Updated:
September 14, 2009, 3:31 PM ET
ESPN.com
After sorting out the Eastern Conference and Western Conference last week, we've reached the ring ceremony in our Summer Forecast series.
According to our 53 voters, the race to the NBA crown couldn't be much closer, with Kobe Bryant and LeBron James once again in a fierce battle for NBA hearts and minds.
But it's not all about Kobe and Bron. We asked the panelists to explain their picks, and the names Ron Artest and Shaquille O'Neal came up a lot.
Without additional ado ...
Los ...

Read full story
2009-10 Predictions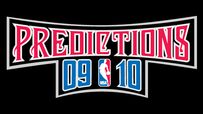 LOOK AHEAD TO 2009-10