Discussion
Savoring this taste of a special Air
SPRINGFIELD, Mass. -- Michael Jordan had a front-row seat to the end of his basketball career.
The entire night at Symphony Hall, Jordan watched highlight reels of himself in the past, throwing down acrobatic dunks, hitting game-changing shots and defying gravity, tongue wagging in the air. By the time his name was called and the time had finally come at the end of the night, the emotion immediately spilled out and tears began to flow.
The crowd was captivated by his every word as ...

Read full story
Basketball Hall Of Fame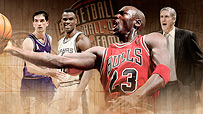 Four of the greatest NBA figures ever were enshrined in the Hall of Fame on Sept. 11, 2009.
ENSHRINEMENT NIGHT
MICHAEL JORDAN
DAVID ROBINSON
JOHN STOCKTON
JERRY SLOAN
VIVIAN STRINGER
MORE