Discussion
No. 4: Chicago Bulls
Originally Published:
June 18, 2010
By
John Hollinger
| ESPN.com
4. CHICAGO BULLS: 59.4 POINTS PER SEASON (1966-2010)
Wins: 1,785 Playoff wins: 161 Series wins: 36 Titles: 6 All-Stars: 42
Best player: Michael Jordan Best coach: Phil Jackson Best team: 1995-96 (72-10, won NBA title) Intangibles: +100. No fan experience can top seeing Jordan night after night.
The Chicago Bulls have won just one playoff series from 1998 to 2010, and from 1976 to 1988 they made it through the first round only one time. Overall, ...
Read full story
Hollinger's NBA Franchise Rankings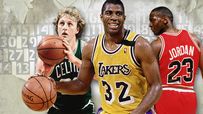 How do all 30 teams stack up for all time? John Hollinger ranks each squad from best to worst.
INTRODUCTION
TOP 10
INSIDER