Discussion
No. 9: Orlando Magic
Originally Published:
June 18, 2010
By
John Hollinger
| ESPN.com
9. ORLANDO MAGIC: 48.55 POINTS PER SEASON (1989-2009)
Wins: 870 Playoff wins: 54 Series wins: 11 Titles: 0
All-Stars: 20 Best player: Shaquille O'Neal Best coach: Stan Van Gundy Best team: 2008-09 (59-23, reached Finals)
Orlando tends to see itself as a star-crossed franchise, and you could certainly make an argument for that. From Nick Anderson's four missed free throws in the 1995 Finals; to Shaquille O'Neal's shady free-agent departure; ...

Read full story
Hollinger's NBA Franchise Rankings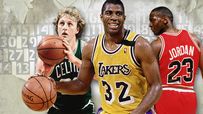 How do all 30 teams stack up for all time? John Hollinger ranks each squad from best to worst.
INTRODUCTION
TOP 10
INSIDER