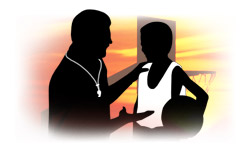 Discussion
Coach pushes Roy to next level
As a young hoops-head growing up in Seattle, Brandon Roy eagerly awaited the time he could hit the court with Lou Hobson.
Hobson, a longtime AAU coach, had helped shepherd some of the area's brightest basketball talents, and Roy was ready to be the next in line.
"I always used to go up to him and say, 'You're going to coach my team when I get to eighth grade,'" Roy said. "He ended up being my coach from eighth grade to college. We ended up having a great bond."
But when ...

Read full story