Discussion
Rising Thunder arrive in West finals
Updated:
May 15, 2011, 10:52 PM ET
By
John Hollinger
| ESPN.com
OKLAHOMA CITY -- 3-29.
If you're trying to understand how Oklahoma City is in the Western Conference finals with its four best players aged 22 or younger, or how Kevin Durant shook off perhaps the worst game of his career 48 hours earlier to dominate Game 7, or how the Thunder's kids held together and stuck with the plan in the face of a furious, physical onslaught from the Memphis Grizzlies, that's where you need to start.
3-29.
That was the Thunder's record ...

Read full story
2011 NBA FINALS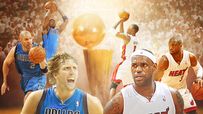 Follow the NBA on ESPN: Twitter / Facebook
LATEST CONTENT
MUST-READ
FEATURES
SERIES PAGES
MazzESPN

Mike Mazzeo


Why can't Drake and Meek Mill just be friends?
14 minutes ago

calvinwatkins

Calvin Watkins


At the Crown and the Harp in Dallas for Spinderella's birthday bash. https://t.co/fGvJkmUm0w
27 minutes ago

ArashMarkazi

Arash Markazi


No fans are in the stands at Dodger Stadium to boo the guys around Kershaw. #PingPong4Purpose http://t.co/B2wd8tllUw
37 minutes ago

ArashMarkazi

Arash Markazi


Donnie Baseball. #PingPong4Purpose http://t.co/tqqrWLpSCO
40 minutes ago

ArashMarkazi

Arash Markazi


In related news, @KelliTennant has never seen The Sandlot. How is that possible?
47 minutes ago

ArashMarkazi

Arash Markazi


Joc Pederson with the shirt of the night. #WendyPeffercorn #TheSandlot #PingPong4Purpose http://t.co/N3ViP84hA8
50 minutes ago

ArashMarkazi

Arash Markazi


Clayton Kershaw has been cleared...to play ping pong. #PingPong4Purpose http://t.co/4cAeY92Zer
about an hour ago

ArashMarkazi

Arash Markazi


Look who I ran into. #PingPong4Purpose http://t.co/1QSdPvXnrb
about an hour ago

ArashMarkazi

Arash Markazi


Nancy Lieberman becoming a full-time NBA assistant coach is a great way to end an amazing month for women in sports. http://t.co/CvodwmdbEG
about 2 hours ago

MazzESPN

Mike Mazzeo


Starting to lose faith in CC Sabathia as a $23 million lefty specialist.
about 3 hours ago

ramonashelburne

Ramona Shelburne


Hellas vs Bangladesh. Badminton. It's on #specialolympics @ Los Angeles Convention Center https://t.co/VyPkciX72H
about 3 hours ago

MelBrooks

Mel Brooks


.@carlreiner Thanks for the invite. But when it comes to running with bulls, as Samuel Goldwyn once said, "Include me out!"
about 3 hours ago

MazzESPN

Mike Mazzeo


Not so appealing to #Mets. https://t.co/huMx6eRMI6
about 3 hours ago

MazzESPN

Mike Mazzeo


Wait, the medicals and money are good, right?
about 3 hours ago

MazzESPN

Mike Mazzeo


Brewers should take another selfie with ex-teammate Carlos Gomez.
about 3 hours ago

royceyoung

Royce Young


Huestis comes out a little ahead because the rookie scale has gone up. Last year for the 29th pick was $918,000. This year, $950,200.
about 3 hours ago

mr_jasonjones

Jason Jones


Nancy Lieberman expected to become Kings assistant coach http://t.co/RDJ2qPxyXI
about 4 hours ago

bhorn55

Barry Horn


It's official. Bob Ortegel, a Mavericks broadcasting mainstay since 1988, is retiring at 74. No greater gentleman in the game.
about 4 hours ago

royceyoung

Royce Young


If you're unfamiliar with the Josh Huestis situation, here's what I wrote about it last summer: http://t.co/qIeGbUviYy
about 4 hours ago

royceyoung

Royce Young


To clarify, Huestis' deal is his rookie scale contract, but the last two years are team options, which is standard.
about 4 hours ago