Discussion
Erik Spoelstra winning the battle of wits
After three games, the Heat's Erik Spoelstra is outcoaching the Bulls' Tom Thibodeau
Originally Published:
May 23, 2011
By
J.A. Adande
| ESPN.com
On the list of series surprises in these Eastern Conference finals, right up there with Chris Bosh emerging as the Heat's most consistent scoring threat, there's Erik Spoelstra having a better coaching run than his Chicago counterpart, Tom Thibodeau.
Anyone have this one? No? Not even any of the crickets I hear chirping?
After the Bulls won Game 1 by 21 points and it looked like we might have a huge coaching mismatch on our hands, it's been Spoelstra whose tweaks have made the bigger ...

Read full story
2011 NBA FINALS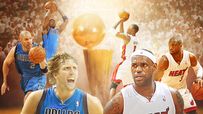 Follow the NBA on ESPN: Twitter / Facebook
LATEST CONTENT
MUST-READ
FEATURES
SERIES PAGES
ESPNSteinLine

Marc Stein


Rockets were confident they'd find palatable deal soon to open roster spot for Smith. HOU preference is one more trade over waiving someone
about 2 hours ago

JoeGoodmanJr

Joseph Goodman


Wade just called LeBron Jr. his nephew, if that gives any insight into the relationship b/ween Wade and LeBron.
about 2 hours ago

ESPNSteinLine

Marc Stein


Apologies to ISAIAH Canaan. Make that Joey Dorsey, Tarik Black, ISAIAH Canaan, Nick Johnson and Clint Capela all available in Houston
about 2 hours ago

ESPNSteinLine

Marc Stein


Joey Dorsey, Tarik Black, Isaac Canaan, Nick Johnson, Clint Capela ... Rockets seeking taker on any of the above to make room for Josh Smith
about 2 hours ago

ESPNSteinLine

Marc Stein


Rockets are making the rounds on Christmas Eve, offering up anyone in the bottom third of their roster via trade to make room for Josh Smith
about 3 hours ago

mcten

Dave McMenamin


Good comp RT @SixersBlog For @bballbreakdown: 76ers wing K.J. McDaniels is playing similar to a young Gerald Wallace http://t.co/kZMy6txNI6
about 3 hours ago

bruce_arthur

Bruce Arthur


Best Christmas Eve column ever, far as I know. Cheers to all of you. Hope it's a happy time of year. http://t.co/GYcQR1NVWN
about 3 hours ago

ESPNNBA

NBA on ESPN


Check out the best dunks of the season so far --http://t.co/uuwXj2qTgX
about 4 hours ago

EkpeUdoh

Ekpe Udoh


Let me ask this randomly, why would Adnan commit this crime?? It's been bothering me. Are high schoolers that emotional??#Ekpesbookclub
about 4 hours ago

ESPNNBA

NBA on ESPN


Chris Paul is relearning the point guard position, writes @jadande -- http://t.co/3k2xs9RVkY
about 5 hours ago

jadande

J.A. Adande


It's a swaggiful life http://t.co/zibQhKyMS1
about 5 hours ago

jadande

J.A. Adande


Perfect Shot RT @helenenothelen: Last one. Promise. http://t.co/AWEyQSmmNw
about 5 hours ago

ESPNSteinLine

Marc Stein


Christmas always coincides with First Trimester time in the NBA. Here's a Where We Are pulse take for @SportsCenter: http://t.co/ksggF5i5Sg
about 5 hours ago

ESPNSteinLine

Marc Stein


RT @AleBedoya17: @ESPNSteinLine @IzzyESPN wow man, why you trying to make me miss home!? Haha (C'MON AB ...YOU'RE IN GLAMOROUS FRANCE)
about 7 hours ago

ESPNNBA

NBA on ESPN


Steph Curry claimed that he's better than LeBron on offense. Now he's backing it up, writes @SherwoodStrauss. http://t.co/9Ipy6Oo2kS
about 8 hours ago

mcten

Dave McMenamin


Cute kids on my flight to MIA. Kid 1: "You look cuckoo" Kid 2: "You look like a dodo" Kid 1: "Dodos are extinct" Kid 2: "You're extinct"
about 8 hours ago

LarryCoon

Larry Coon


http://t.co/ACC7dykIAb RT @_ZacCollins12 is there a link to the full NBA CBA? I'd like to read it in its entirety.
about 9 hours ago

ESPNNBA

NBA on ESPN


.@AminESPN explains how Josh Smith will fit with the Rockets -- http://t.co/6buBKtVmc4 (In)
about 9 hours ago

coachthorpe

david b. thorpe


@ESPNSteinLine got to figure he also only considered teams in a state with no income tax-adds more value to that Pistons future cash.
about 9 hours ago

kevinarnovitz

Kevin Arnovitz


@tomhaberstroh Chris, we have an extensive coding project for you to improve our player evaluation system. Gonna require a lot of time away.
about 9 hours ago