Discussion
Who is going to stop Dirk Nowitzki?
Which of the Heat big men is best suited to guard the Mavericks' superstar?
There will be moments in the flow of the game when you accomplish everything you want to defensively against Dirk Nowitzki: aggressively deny him the ball, prevent him from getting to one of his favorite spots on the floor, crowd his space, refuse to bite on his shot fake, extend your arms straight up, firmly plant your feet, maintain proper balance and prepare yourself to move if he drives.
Every fundamental you've been taught over thousands of hours of instruction has been ...

Read full story
2011 NBA FINALS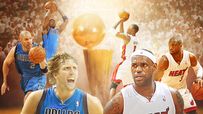 Follow the NBA on ESPN: Twitter / Facebook
LATEST CONTENT
MUST-READ
FEATURES
SERIES PAGES
calvinwatkins

Calvin Watkins


If this holds up, a Rockets win would have placed them into a tie with Dallas for the sixth seed. A loss and oh well.
about a minute ago

calvinwatkins

Calvin Watkins


Rockets with 21 turnovers this afternoon resulting in 27 points for the Blazers.
4 minutes ago

NickFriedell

Nick Friedell


Dunleavy sitting at his locker with a smile on his face. "I'm back."
4 minutes ago

calvinwatkins

Calvin Watkins


I doubt if this streamer will come down today. Blazers up 74-53. https://t.co/IdsXvPUC7c
7 minutes ago

MazzESPN

Mike Mazzeo


Since that game, #Nets are 6-23, #Sixers are 6-21.
10 minutes ago

MazzESPN

Mike Mazzeo


Last time the #Nets and #Sixers played (Dec. 10), Philly missed 27 3s. Was also last time Brooklyn won consecutive games.
12 minutes ago

calvinwatkins

Calvin Watkins


I have no problem with James Harden shooting everything, because why not? It's not like somebody else is going to make things work.
18 minutes ago

calvinwatkins

Calvin Watkins


Terry Stotts call timeout after consecutive buckets by Harden. It's 74-48, Portland. I think the Blazers are ok.
20 minutes ago

calvinwatkins

Calvin Watkins


Rockets shooting 28.6 percent from the floor.
22 minutes ago

calvinwatkins

Calvin Watkins


And Houston has Golden State and Portland left on the schedule.
25 minutes ago

calvinwatkins

Calvin Watkins


Boos getting louder. Not sure if it was about the contact on Howard or the fact Houston is down, 69-40, with seven minutes left in third.
26 minutes ago

kpelton

Kevin Pelton


Great road win for Arizona. Admirable effort by the young Huskies but couldn't quite make enough plays late.
27 minutes ago

royceyoung

Royce Young


Really good in-depth breakdown of tonight's matchup from @AlexR44: https://t.co/4hOutk8L4q
28 minutes ago

calvinwatkins

Calvin Watkins


Bernie Bickerstaff saw his son's team get blown out in San Antonio and now in Houston.
28 minutes ago

BaxterHolmes

Baxter Holmes


Kobe jokes that he would've been "fine" playing for health-conscious Spurs: "Because they never would've known if I was dinged up or tired."
28 minutes ago

ThompsonScribe

Marcus Thompson


Michael B. Jordan, Jay-Z, Kendrick Lamar, Dave Chapelle and Jim Harbaugh confirmed for tonight's Warriors-OKC game
29 minutes ago

BaxterHolmes

Baxter Holmes


Kobe says he can't complain a/b lack of consistency with Lakers: "I've eaten pretty well, so I can't complain that there's no dessert left."
30 minutes ago

ZachLowe_NBA

Zach Lowe


You can't trust the Rockets, volume 6738. What a gross performance.
32 minutes ago

calvinwatkins

Calvin Watkins


A Damian Lillard layup pushes the lead to 61-36 and the boos from the midday crowd at the Toyota Center come out.
34 minutes ago

BaxterHolmes

Baxter Holmes


Kobe also said his rivalry with the Spurs is "more personal" than his rivalry with the Celtics.
34 minutes ago