Lisa Blumenfeld/ /NBAE via Getty Images
Kobe Returns Under Uncertain Circumstances

LOS ANGELES -- If this truly was the beginning of the end for
Kobe Bryant
in purple and gold, as so many of us suspected, you really couldn't tell. You couldn't be sure of anything on a confusing Tuesday night at Staples Center, except that Phil Jackson wasn't kidding in his pregame press briefing when he called this the start of "a curious chapter in our lives as Lakers." Curious? That's the polite way to describe the growing sense around the league that a Bryant deal is inevitable . . . and it likewise applied to a season opener that was a bit of a saga in itself. Those were indeed unmistakably loud boos that greeted Bryant in his first real game since announcing last spring that he wants to be traded, but the record must show that he turned them into more frequent chants of adoration in the second half. Kobe did score a game-high 45 points and frequently checked
Tracy McGrady
at the other end, but it wasn't the prettiest 45. He needed 32 shots and a career-high 27 trips to the free-throw line to get there and really should have topped 50, stunningly missing nine of the free throws thanks in part to an ailing wrist. Kobe nonetheless managed to help the Lakers stage a hard-to-believe comeback from 12 points down with less than two minutes to go, but he left the floor with a new source of frustration when the
Houston Rockets
made Shane Battier's huge 3-pointer at the finish stand up for a 95-93 triumph. The primary source of frustration, of course, remains Bryant's in-limbo future and clashes with owner Jerry Buss. But more on that later. The only major change in his job status so far -- one game into a season in which trade scenarios are starting to circulate daily -- was positional. Jackson informed him during a morning chat that the plan to have Bryant operate as the Lakers' primary facilitator was being scrapped for the moment.
Derek Fisher
would assume more of the ballhandling responsibilities, with Jackson hoping that a shift to finishing on the wing would help Bryant cut down on his turnover troubles throughout exhibition play. The response? Ignoring those boos during introductions -- and a few more which accompanied his first touch and first shot -- Bryant nearly outscored the Rockets by himself in the first quarter. He whirled through the lane for a layup after the teams combined to miss the game's first 10 shots and wound up scoring a 13 quick points, helping the Lakers to an early 25-16 edge. Bryant also guarded McGrady for long stretches, frequently found himself shadowed by McGrady or Battier, and, by the third quarter, had the audience belting out its usual "Kobe, Kobe, Kobe" chants on his trips to the free-throw line. There would be no questioning his effort, as Jackson did Sunday when he suggested that Bryant hadn't "thrown his heart and soul" into training camp and the preseason. Yet Bryant never looked especially comfortable or happy, shooting just 13-for-32 from the field on top of the free-throw woes and playing at times as though Fisher was the only teammate he trusted. There weren't many scorers around Bryant with
Lamar Odom
in street clothes still recovering shoulder surgery, but Jackson hinted at a lack of ball movement as the reason only one Kobe teammate (Fisher with 17 points) scored in double figures. If he was trying to do too much, after Jackson called him out, who would have been surprised? It should be noted, however, that Bryant hasn't practiced much lately and was undeniably playing hurt. Anyone questioning the severity of Bryant's wrist injury will have noticed that he wore a long white sleeve on his right arm in an attempt to keep it warm . . . and that he uncharacteristically missed more shots short than usual. But Bryant pinned the loss on himself anyway, noting that he contributed half of the Lakers' 18 misses from the line and resisting the urge to lament the bizarre basket which proved pretty memorable in a two-point game -- that
Luke Walton
and
Kwame Brown
conspired to score for the Rockets by deflecting a loose ball into the wrong basket. "That's my bad," Bryant said of the narrow losing margin. (He also said he could "understand" the early boos.) Back to the uncertain future . . . Jackson has made it clear he's hoping for closure on the matter "sooner rather than later," which would require some sort of definitive declaration from Bryant or Buss that the face of the franchise is either heading elsewhere soon or staying long enough to take the league and its media off Kobe Alert. The problem? There are no signs of a truce forthcoming from player or owner. Which is probably why Jackson didn't want to say too much more after his unexpected disclosure on the eve of Tuesday's opener that, yes, trade proposals were coming in and that his old team in Chicago was "one of the active teams." "I don't know how much more explicit I can be about that without kind of divulging too much," he said. He didn't go nearly as far as, say, Lakers legend Magic Johnson, who from the TNT studios in Atlanta called for the club to either trade Kobe or announce that he's off the market within the next week. "[The fans have] followed this, I think, with more than patience," Jackson said. "They're going to be probably as interested as we are as to how this is going to come out."
Marc Stein is the senior NBA writer for ESPN.com. To e-mail him, click here.
Chad Ford and John Hollinger preview the NBA season. Does the preseason matter? How will the Cavs and Suns play this year?
• Tipoff talk

Twelve Questions For The NBA Season
Are the
Dallas Mavericks
the best team in the NBA, or are we waiting for a fire sale? They are a popular pick to win it all this year. They are also a team wrapped in doubt after flaming out in the first round against Golden State this spring. You can make a strong case that they are a tweak or two away from the title they almost got in 2006. You can also look at their salaries and realize that if this roster is not perfect, it's going to be very tough to retool on the fly -- most of their good players have long and hefty contracts. I have to believe that this is a make or break season for this roster.
• See the rest of TrueHoop's Questions For NBA Season

Kevin Durant, Sonics:
I ended up with the league's top rookie in a few drafts, because I believed he was undervalued. I saw one projection for him that was in the 15-point, five-rebound range. C'mon, that's all! I'm thinking he scores 20 a night and hauls in at least seven boards. The field-goal percentage is a bit of a concern, even more so now that he's dealing with a sprained ankle, but I think we've got something special here. Durant opens on Halloween at Denver, and the next night he faces the Suns. It's really a shame he's going to be at least partly handicapped by the ankle, because he'd be able to score on those teams. If Durant plays poorly, or shoots like 5-for-20, pounce in trade talks. You want him. If he plays well, then maybe I'm underrating him.
• See full Eric Karabell blog

Tuesday's Best

Carlos Boozer, Jazz forward
-- His 32 points and 15 boards reminded the Warriors that going through Utah is not a good way to advance in the West. Jazz romp, 117-96.
Tuesday's Worst

Warriors feel-good mottos
-- Remember how "We Believe" became a familiar refrain during Golden State's stunning upset of the Mavs in the playoffs? Well, another beatdown at the hands of Utah was one way to kill the party.
Quote of the Night

" That's actually how we work around here if anybody wants to know the truth."
-- Spurs coach Gregg Popovich, commenting on a cartoon in which a player calls the coach into his office.
• See how Tuesday's players fared

"The key and emphasis of . . . the Denver Nuggets is: Will we play defense? The training camp has been 75 percent defensive oriented. The teaching, the correction, the yelling, the anger, has been to be a defensive basketball team. We've had the talent to be that, but sometimes we haven't had the commitment to be that."
-- Nuggets coach George Karl, telling Mike Tirico about his team's fortunes
• Karl, David Stern interviews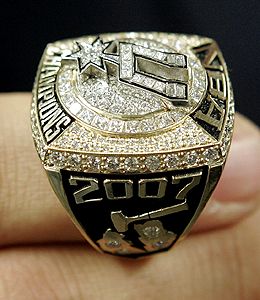 AP Photo
The Spurs received their 2007 championship rings before Tuesday's game.
• Oracle Arena swayed for 10 seconds during a 5.6 earthquake centered in nearby San Jose, but most fans at the Jazz-Warriors game didn't seem to notice. • Warriors rookie
Marco Belinelli
had six points in his NBA debut.
Brandan Wright
, the eighth overall pick acquired by Golden State in a trade that sent longtime Warriors G
Jason Richardson
to Charlotte, began the season on the inactive list -- and coach Don Nelson doesn't expect him to get off it any time soon. • The clubs meet again Saturday night in Utah. The Jazz won't visit Oakland again this season. • The Warriors are 7-15 when opening their season at home over the last 45 years.
-- Associated Press