(Photo by AP Photo/Winslow Townson)
Garnett Looks Like A Fast Starter In MVP Chase

We're roughly one-seventh the way through the NBA season. Here's an early look at Most Valuable Player candidates who have emerged. Of note, my top two picks here square off Tuesday in Boston.
1. Kevin Garnett, Celtics forward -- Right now, the best player on the best team in the league. He's extremely dominant on both ends of the court. Basically a double-double machine (20.9 ppg, 12.7 rpg). What I love about him is he's so unselfish on the offensive and defensive end. He'll clearly look to pass first, and does all the dirty work on the defensive end. It's one thing to be a dominant player on a weak team, but to be a dominant player on a great team, which the Celtics are, that's saying something.
2. LeBron James, Cavs forward -- Getting to the Finals last spring, and playing with great players this summer on Team USA, has clearly helped him. He knows he must often get a triple-double, scoring in the 30s, for his team to win. He's been doing it. He had his fourth-triple double of the season Sunday, and is leading the NBA in scoring at 31.4 ppg, along with getting over eight in both assists and rebounds per game. There's a lot of pressure on him, and he's delivering.
3. Tim Duncan, Spurs forward -- People tend to overlook Duncan till the end of the year. His team has consistently a great record (now 12-2) and he's the dominant player, along with 18.2 ppg.
4. Yao Ming, Rockets center -- Ming has been extremely dominant at his position (22.4 ppg, 10.4 rpg, 2.1 bpg). He's benefited from Rick Adelman's style -- he's much better facing the basket.
5. Steve Nash, Suns guard -- Some people ask what's wrong with the Suns, but they have a great record (11-2), and in my view he's the whole reason that they have it. Still hasn't missed a free throw this year (36-for-36) and is shooting 55 percent from the field.
6. Kobe Bryant, Lakers guard -- Any time he is on the floor you have a chance to win, and the Lakers are still above .500 (7-6) despite losing three straight. Although he missed that late free throw against the Nets on Sunday, he's one of the most clutch players in the game. I don't think he's going anywhere.
7. Dwight Howard, Magic center -- His shoulders alone now seemingly fill the entire lane. He has come into his own as a big-time dominant center, averaging 23.4 ppg, 14.5 rpg and 2.5 bpg for the 12-3 Magic. With Stan Van Gundy doing a great job, I don't see Howard's team dropping off.
8. Chris Paul, Hornets guard -- What elevates his game is that he takes over at the end. That's one big reason New Orleans is off to a great start at 10-5.
9. Carlos Boozer, Jazz forward -- He's emerged as one of the dominant players every night. He's become such a force on both ends of the court -- and he's always been a great rebounder and scorer. He's at 24.2 ppg and 11.5 rpg for a Utah team off to a 10-4 start.
10. Paul Pierce, Celtics forward -- Although Garnett may be the best player on Celtics, The Truth has come through at the end of games and dominates in pressure situations. He leads the team in scoring (22.2) and assists (5.2).
The next group of guys outside top 10 that follow are likely there because their team is struggling. You can expect their status to change.
We would be remiss not mentioning these others off to notable starts. Start with Carmelo Anthony, Dirk Nowitzki, Baron Davis, Zach Randolph, Tracy McGrady, Michael Redd, Allen Iverson and Jason Kidd. And don't forget about Dwyane Wade and that other big guy in Florida that can still dominate. And there's Chris Kaman and Deron Williams among the players having notable seasons so far.
Former NBA All-Star and ex-Nuggets GM Kiki Vandeweghe is a regular ESPN.com contributor.
Dimes Past:
November 10-11
|
12
|
13
|
14
|
15
|
16
|
17-18
|
19
|
20
|
21
|
24-25
By Chris Broussard | ESPN The Magazine

What some teams have to be thankful for …
SEATTLE: At the tender age of 25, Chris Wilcox (16 ppg, 8 rpg, 54 percent FG) is coming into his own.
PHOENIX: Amare has become a shot-blocker (2.4 bpg), nearly doubling his career average (1.4).
L.A. LAKERS: 20-year-old Andrew Bynum's blossoming so quickly (11 ppg, 10 rpg) that even Kobe's been giving him props.
L.A. CLIPPERS: Chris Kaman not only looks like a beast; he's playing like one, too (18.4 ppg, 14.1 rpg).
SAN ANTONIO: No one's averaging more than 36 minutes a game, yet Spurs are still 12-2. They'll be well-rested for their postseason run at a repeat.
DALLAS: Dirk's responded to last season's playoff debacle by becoming a more versatile all-around player (career-high 4.4 apg), and Jason Terry's responded to his benching by becoming one of the league's top sixth men (20.3 ppg).
NEW ORLEANS: After a poor start, Morris Peterson is heating up, averaging 14 points over his last five games.
HOUSTON: Stevie Franchise hasn't complained or caused problems since being reduced to a cheerleader.
Barkley Was Worse Than His Bite

By Henry Abbott
|
ESPN TrueHoop
From the last post in a series on NBA referee Bennett Salvatore:
Charles Barkley, many years ago. I made a call against him, in the fourth quarter of a nationally televised game, that he did not agree with.
At that particular time we were going to to timeout. Charles, before going to his huddle, told me that he didn't like the call. I told him to go back to his timeout. He gave me some more of his expertise. I told him go back to his timeout.
Coming back onto the court, I'm ready to put the ball in play. The lights are back on, the TV cameras are back on, we're ready to play.
Charles walks over to me, being larger, obviously, leans over me, and starts bobbing and weaving his head.
And what he's saying is: Bennett, how's the family, how are the kids, how's the wife?
The whole world thinks that he's taking a piece out of my backside, and he's really not. He's being playful.
So not all the time what you think is being said on the court really being said.
• See the full Henry Abbott story

Sunday's Best

Carlos Boozer, Jazz forward:
When you make 17 of 20 field goals against nobody at all, that's good. Booz did it against the real-live Pistons, going for 36 points and 11 rebounds in a 103-93 win.
---

Sunday's Worst

Vlad Radmanovic, Lakers forward:
Forget Kobe's miss. Vlad missed all 10 of his shots, including seven 3-point attempts, in a 102-100 loss to the Nets. Also had three turnovers. On the bright side, he made a free throw.
---
Quote of the Night

"He might be the only guy I've seen that looks like he was engineered to play basketball."
--
Pacers forward Danny Granger,
after witnessing LeBron's triple-double.
• See how all 97 players fared
-- Andrew Ayres
LeBron James, the league's leading scorer, finished with 30 points, 11 rebounds and 10 assists in a 111-106 win over Indy. It was his second straight game with a triple-double.
• Watch highlights of every NBA game
Playing With Or Without Gil

By Lisa Brooks
ESPN Research
The Wizards got news last Wednesday that they would be without Gilbert Arenas for at least three months. So far so good for the Wizards as they have been playing well this season without Arenas. However, Monday brings the Mavericks, and the Wizards have lost five straight trips to Dallas. Both teams come into this one riding two-game losing skids.
Washington Wizards, Last 5 Seasons

Season
With Arenas
Without Arenas
2007-08
3-5
3-2
2006-07
39-35
2-6
2005-06
40-40
2-0
2004-05
44-36
1-1
2003-04
17-38
8-19
Coming attractions this week on ESPN airwaves:
Monday night: NBA Fastbreak 12 a.m. (ESPN2)
Tuesday night: NBA Fastbreak 12:30 a.m. (ESPN)
Wednesday night: NBA Fastbreak 12:30 a.m. (ESPN)
Thursday night: Knicks/Celtics 7:35 p.m. (ESPN Radio)
Friday night: NBA Shootaround 7:30 p.m. (ESPN) ; Celtics/Heat 8 p.m.( ESPN), Lakers/Jazz 10:30 p.m. (ESPN)
All times Eastern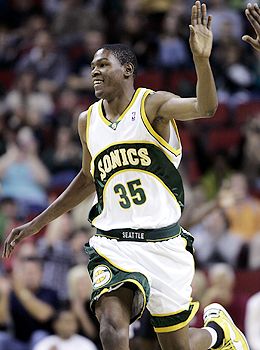 AP Photo/Mark Duncan
Kevin Durant showed his moves, making 11 of 17 shots (25 points) in a 116-101 loss to the Spurs that was close until the final minutes.