(Photo by D. Clarke Evans/NBAE via Getty Images)
Checking Out The Best Of The West

When we talk about the top three teams in the West, we see that the Dallas Mavericks, San Antonio Spurs and Phoenix Suns, which all somehow managed to fall Monday night to teams that came in with losing records, have much in common.
Usually, they win. That, and an established approach to the game, a clear team identity and being well coached are all foundations for the West's Big 3.
It's in their styles where we see the clear contrasts. The Suns want to run and gun, get it going in a high tempo (see their 129-114 loss to Golden State). The Mavs emphasize defense but they too want to play up-tempo. And the Spurs play efficient, winning, championship-level basketball.
Phoenix, the team I finished my playing career with last season, is one whose style can make an opponent look its worst on a given night.
They have a tremendous superstar Big 3 with Amare Stoudemire, Steve Nash and Shawn Marion, supplemented well by Raja Bell and Leandro Barbosa. But what they don't have is depth in the size department. With no Kurt Thomas on the team this year, when Stoudemire's out, at times Boris Diaw is in there as the center. That's not exactly imposing as a playoff lineup in the half-court game.
Many have seen the turning point of the Western Conference Spurs-Suns semifinals last season as the Game 4 brawl and suspensions. But that could have been the best thing that happened for Suns fans -- when the series ended, everybody was talking about how Amare and Diaw left the bench. Nobody was talking about how Tim Duncan took away home-court advantage in Game 1. Our game plan as we played them last year was to put Tim in position to beat us, the theory being if he goes out and gets big numbers, this in turn would stop everyone else on the Spurs from getting theirs.
Also, why was it a foregone conclusion that had we eliminated the Spurs, we would have beaten Utah in the West finals? That was a team that had beaten us three out of four times in the regular season.
This year, the Suns have a different look. When we played the Lakers in the playoffs, we had James Jones in the starting five. Then we had Thomas starting against the Spurs. Now you have Grant Hill filling that spot. For him to be a superstar player, he has to have that playoff success. We'll see -- that's a team that will spend the regular season making a lot of teams look their worst. That's how they're built.
Dallas is the team that is a balance between the San Antonio and Phoenix styles, more flexible in its approach than the other two, and built to play against either the Suns or Spurs, offering speed and quickness along with size.
Dallas has its Big 3 -- Josh Howard, Jason Terry and Dirk Nowitzki -- they all average around 20, have won a Western Conference championship together -- a team that has been knocking on the door for a few years.
Dallas is a deep team. The Mavs acquire players for specific situations they might face, and this year is no exception. Some felt Golden State was the tougher team in the playoffs, so they got Trenton Hassell and Eddie Jones to combat that. Devin Harris becoming the starting point guard allows them to bring Terry of the bench. And I would like to see my college teammate Juwan Howard get a ring with Dallas.
Of course, the Spurs will have something to say about that. They have the championship pedigree that neither the Mavs nor Suns have, and they have consistent defensive presence in Duncan, who just so happens to get 20-10 a night. Not mentioned enough as one of the great point guards, Tony Parker, the Finals MVP. And I see this season as something of a present to Manu Ginobili -- they're going to let him cut it loose offensively. By the way, he did take it to the U.S. Olympic team and he's got a championship ring. Helped by several established role players, the Spurs are a team that can maintain their style and win.
There are other challengers too. A team like Denver can give anyone problems, including the West's Big 3. I like them as a wild-card better than the Rockets because the Nuggets' role players are a little more established.
In the end, though, you won't go wrong by saying one of the Big 3 will win the West.
ESPN analyst Jalen Rose posted a career-high 22.1 ppg for the Bulls in 2002-03. For more about Jalen, visit his website: JalenRose.com
.
Dimes Past:
November 10-11
|
12
|
13
|
14
|
15
|
16
|
17-18
|
19
|
20
|
21
|
24-25
|
26

By Chad Ford
|
ESPN.com
Agent Dan Fegan says that if Cleveland is willing to pay Anderson Varejao "fair market value," the Cavs would then be in the best position to sign him next year.
"It defies logic for the Cavs to accuse Anderson of demanding too much money on a long-term deal while at the same time refusing to allow Anderson to sign a one-year deal for less money, especially when they retain his Bird rights next year." Fegan said. "It begs the question: If their offer is truly fair, what are they afraid of?"
The result has been a standoff that shows no sign of ending.
On each side, the frustration level has been rising the past few weeks, as Varejao is left in limbo in Brazil, and as the Cavs have struggled coming out of the gate in training camp and the regular season.
In October, Cavs GM Danny Ferry made a surprise visit to see Varejao at his parents' home in Brazil in an attempt to convince him to sign.
The move backfired.
Ferry showed up without telling Fegan, and working around an agent is a no-no in the NBA. While GMs are allowed to talk with players without an agent present, it is customary that all contract talk goes through an agent.
• See the full Chad Ford story

By Eric Karabell
|
ESPN Fantasy Games
Antonio Daniels, Wizards: Not a surprise, as Daniels was owned in 0.2 percent of leagues a week ago, then Gilbert Arenas went and had knee surgery that will sideline him until the All-Star break, and Daniels has looked like Jason Kidd since then. Now he's owned in 91.8 percent of leagues. Make it 100. Soon. As an Arenas owner in a 30-team league, let me say it really, really stinks when the best free agent point guard available is Mario West.
Andray Blatche, Wizards: That 26-point game on 12-of-14 shooting against Philly got him noticed, but since then Blatche has remained a fantasy factor, scoring in double digits twice and totaling 9 blocks in three games. I'd keep him around if for no other reason than the blocks.
• See the full Eric Karabell blog

Monday's Best

Beno Udrih, Kings guard:
While others may have had bigger nights, this was sweet for the spurned Spur. He wasn't wearing his two Spurs championship rings while dropping 27 points on the Spurs in a 112-99 win.
---

Monday's Worst

Jason Terry, Mavs guard:
Sometimes the JET is a WWI-vintage biplane. Shoots 1-for-9, good for three points in 20 minutes of action in a 110-98 loss to Washington. Three straight Ls for Dallas.
---
Quote of the Night

"Maybe that's the thing, I don't know. They can joke for now. We won, so that's fine."
--
Wolves guard Marko Jaric,
whose second straight game over 20 points helped beat New Orleans, reacting to teammates' suggestions that dating Brazilian supermodel Adriana Lima has elevated his game.
• See how all 136 players fared
-- Andrew Ayres

Ronald, Boston: Why are the Celtics not No. 1 in your power rankings? You are always anti-East in your rankings!!
Marc Stein:
You're right. I do like the best West teams better than the best East teams. How can I not when we're talking about teams with a proven pedigree like the Suns and Spurs. And that factors into my secret formula, even at this early stage. Boston has obviously started spectacularly, but I couldn't put them ahead of Phoenix, San Antonio or Orlando as of Monday morning. The Celts haven't been as dominant in their last five games as they were initially, lost their only "big" game of the season -- as big as games can be in November -- and haven't even gone on an extended road trip yet.
• The full Stein chat

By Lisa Brooks
ESPN Research
LeBron James and defending Eastern Conference champion Cavaliers get their first look Tuesday at the Boston Big 3 who have become the favorites to dethrone the Cavs. LeBron is averaging 29.8 PPG in 12 career games against the Celtics.
He has seven straight games with at least 30 points, which is the longest active streak against Boston.
Most PPG vs East Teams

Team
LBJ PPG
Celtics
29.8
76ers
29.2
Bucks
29.2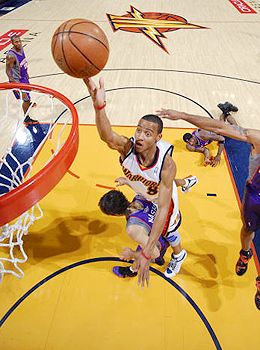 Rocky Widner/NBAE via Getty Images
Warriors guard Monta Ellis matched his career-high 31 points in Golden State's 129-114 win over Phoenix. He had 31 against the Sixers on Saturday night.