(Photo by Mark Duncan/Associated Press)
Without LeBron, Cavs' Fortunes Flagging

CLEVELAND -- Below the still clean, white and creased Eastern Conference Championship banner, the Cleveland Cavaliers dropped their fourth straight game and fell below .500 Tuesday night.
Sitting in suits on the end of the bench were their two top scorers and highest-paid players next to the two top big men off the bench. Meanwhile, somewhere in Los Angeles, their floppy-haired energy machine had a celebratory dinner after signing an offer sheet with another team.
The San Antonio Spurs proved last June that the Cavs were not yet ready to be a championship team.
They are further away today, a fact that has not exactly thrilled their fans, who recently saw past postseason sideline-sitters Kevin Garnett and Paul Pierce express sympathy for LeBron James.
The Cavs have been decimated by injury, downtrodden by contract circumstance and dogged by the toughest schedule in the East early in the season. It has all made their present look shaky at best, which is why the team is squarely focusing on the future. The Cavs know they need to get better and they've got a plan to do so. But it's more of the long-range variety, which is already bringing its own set of pressures.
"A lot of people have been focusing on what we don't have," James said. "We can't think about that. We have to make the best with the guys we have in this locker room now and try to get better from there."
Off to the best start of his career, James has now missed three and a half games with a sprained left index finger, and the Cavs have lost them all. That ended a four-game win streak that climaxed with an overtime victory over the Boston Celtics last week.
Larry Hughes is out a month with a deep bone bruise in his leg. Donyell Marshall may be out three months with a wrist injury and Cedric Simmons has been shut down with ankle problems.
Sasha Pavlovic missed all of training camp with his own contract dispute, the restricted free agent refusing to take a qualifying offer. Anderson Varejao has missed everything so far with contract issues.
Last week he irked Cleveland fans when he told ESPN.com that he didn't want to play here anymore and he irked his teammates when he said he gets "paid much less than players on the team that I outperform."
With the Cavs likely to match the offer sheet Varejao signed with the Charlotte Bobcats Monday, he'll soon be back in the fold. When he's back in game shape and back in good graces with his teammates is yet to be seen.
The Cavs play 14 of their first 21 on the road and half of those were in the tough West. No less than 11 of their first 18 games were played against teams with winning records -- which only compounded their early-season personnel issues.
All of that plus the increased competition in the East makes a return to the finals seem pretty far away at this moment. But the Cavs think the steps they're taking now, while painful, will only help them down the line. It has been tough and not without venom, but general manager Danny Ferry will soon have gotten key pieces Drew Gooden, Pavlovic and Varejao all into reasonable, short-term contracts over the last two years.
"The most important thing for us is to maintain roster flexibility," Ferry said. "That will give us some options."
As of now, the Cavs are in position to have around $15-$18 million in salary cap space in the summer of 2009, which not coincidentally is the next time they will ask James to extend his contract, which ends in 2010. But more than likely it will never get that far.
Ferry wants to use his horde of upcoming expiring contracts in trades, and he'll attempt to get started before February's trading deadline.
At least that's the plan, one that will be closely watched considering the massive stakes.
Brian Windhorst covers the Cavs and the NBA for the Akron Beacon Journal.
Dimes Past: November 24-25 | 26 | 27 | 28 | 29 | 30 | Dec. 1-2 | 3 | 4

By John Hollinger
|
ESPN.com
As far as what the new guy, Ed Stefanski (right), can do from here, the plan in Philly seems pretty straightforward -- use the cap space they'll have this summer to play the free-agent market, make sure they re-sign their backcourt of the future in Andre Iguodala and Louis Williams, and try to stockpile draft picks and talented young players cast adrift by others.
The only two moves that seem likely between now and June involve point guard Andre Miller and coach Maurice Cheeks. Miller seems like an obvious candidate for relocation, as he's a veteran guard miscast on a rebuilding team, and it was odd to me that Philly didn't move him this summer. Look for Stefanski to get something arranged by the trade deadline, possibly clearing more cap space and certainly aiming for another draft pick.
As for Cheeks, this stinks for him because it's the second time he's been the head coach of a team that changed GMs on him. Coaches rarely survive this situation for long, as the new guy inevitably wants to get his own man in place. With Cheeks on the last year of his contract, he doesn't seem likely to buck the trend.
And don't weep for Stefanski. While he would like to have been the one pulling the trigger for the past several months, every new GM inherits the mistakes of his predecessor. As much harm as Billy King's bad contracts did, he's already dumped all the worst ones. Additionally, Stefanski has several assets any new GM craves -- cap space, some good young talent, and perhaps most importantly of all, low expectations for the next couple of years.
• See the full Hollinger blog

By John Hollinger
ESPN.com
Mike (Mountain West): Is Golden State just a really fun team to watch that can pull the occasional upset or can they make real noise in the playoffs?
John Hollinger: Well, I'd describe last year as some "real noise" ... remember, if Houston wins that Game 7 against Utah, the Warriors are likely in the conference finals because the Rockets can not match up against them at all.
Ray (San Antonio): Ready to eat some crow for listing Manu Ginobli on the All Decline Team?
John Hollinger: When you make predictions, the only prediction you can guarantee is that some of them will be wrong. Manu's indicators pointed downward, but to his credit he found a way to take his game to another level.

By Andrew Ayres
ESPN.com
Jason Kidd and LeBron James are proven triple-doublers, but they've never done it in this rare fashion: points, rebounds and steals. It's only happened four times since the 1986-87 season, according to basketballreference.com.
It hasn't ever been done in this century. New Orleans guard Chris Paul, who leads the NBA in steals at 2.94 per game, seems the most likely candidate to chalk up a "stolen" triple-double. But the closest he's come this season is a 28-13-5 in a Nov. 16 win over Memphis.
Peruse the basketballreference.com link above for Fat Lever and Alvin Robertson flashbacks. And you'll see that Monday was the 10th anniversary of Grant Hill's conventional 27-16-10 triple-double night for the Pistons, racked up against his current employer, the Suns.
Triple-Doubles: Points, Rebounds, Steals

Player
Date
Pts
Reb
Stl
Kevin Johnson, Phx
12/9/93
17
13
10
Clyde Drexler, Hou
11/1/96
25
10
10
Mookie Blaylock, Atl
4/14/98
14
11
10
Kendall Gill, NJ
4/3/99
15
10
11

Tuesday's Best

Amare Stoudemire, Suns center:
Drops 42 points and 13 rebounds in a 121-117 win in Indiana. A night that makes that microfracture business seem eons ago.
---

Tuesday's Worst

Sasha Pavlovic, Cavs guard:
He's had some big performances, but this was one of Pavlovic's dogs. He went 1-for-9 from the field, good for two points in a 21-point loss to Jersey.
---
Quote of the Night

"Tonight, I felt we gave in as a team. We gave in to whatever they were doing and we didn't fight back until late. "
--
Cavs coach Mike Brown,
after watching his LeBron-less team get pummeled by the Nets.
• See how all 120 players fared
-- Andrew Ayres

By ESPN Research
The Mavericks have had the Spurs' number of late, winning four straight and winning three straight trips to San Antonio. The two teams square off Wednesday at 8:30 p.m. ET, with Tim Duncan expected to be out of action with a knee injury.
Mavericks-Spurs, Last 4 Meetings

Cat.
DAL
SA
Wins
4
0
PPG
95.3
88.8
FG%
47.9
44.1
3-pt FG%
36.8
28.8
RPG
40.0
36.5

By ESPN Research
Canadian Steve Nash will likely play in his home country for the 19th time in his career, including 10th in Toronto, when the Suns face the Raptors on Wednesday.
Bryan Colangelo was named Raptors president and GM on Feb. 28, 2006 after serving 15 years in the Suns organization. His father, Jerry, is the chairman of the Phoenix Suns. Bryan is trying to make the Raptors the Suns of the East.
Steve Nash Career in Canada

Stat
at TOR
at VAN*
PPG
13.2
14.4
APG
7.1
7.0
FG pct
48.4
49.5
W-L
7-2
7-2
*Grizzlies played in Vancouver through 2000-01 season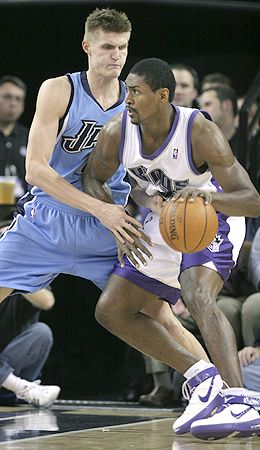 AP Photo/Rich Pedroncelli
Forward Ron Artest (23 points), along with John Salmons, helped the Kings stop Andrei Kirilenko and the Jazz 117-107.